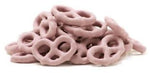 Hosting a festive holiday party, family function or fundraiser? No event is complete without the perfect tasty snack, and with the rest of the party preparation underway, you might be stressing over how to prepare foods that will satisfy your guests in both flavor and quantity. Can you really make enough snacks for everyone? How can you do it without breaking the bank or spending too much time? What you need is an easy, DIY recipe that's both simple and satisfying — and lucky for you, we have the perfect solution.
These homemade yogurt-covered pretzels are perfect for guests of all ages, and it's easy to adjust the quantity to meet your needs. Here's how to make your own homemade yogurt pretzels today.
Homemade Yogurt-Covered Pretzels
Ingredients:
1 bag miniature pretzels
2 cups yogurt in your preferred flavor and variety
5 cups confectioners sugar
1 cup melting chocolate, optional
2 tablespoons seedless preserves in your preferred flavor, optional
How to Make Homemade Yogurt-Covered Pretzels:
The best part about these homemade treats is you can make them in whatever flavor and quantity you like. If you're partial to chocolate, choose to incorporate melting chocolate chips in white, dark or milk chocolate, or pick another flavor — like butterscotch. If you'd rather coat your pretzels in a creamy, fruity frosting, select a fruit variety for your yogurt instead of vanilla or mix in your favorite flavor of seedless preserves.
You can make your pretzels with strawberry, blackberry or blueberry coats. And if you need an especially large quantity of these tasty snacks for your function, just adjust the recipe based on the number of mini pretzel bags you use. Follow these steps to create your personalized yogurt pretzels:
Instructions:
Step 1. Begin by preheating your oven to 250 degrees Fahrenheit.
Step 2. Next, combine the confectioners sugar and yogurt in a large mixing bowl and blend together with a handheld mixer. If you choose to add any seedless preserves, spoon them in and mix with the sugar and yogurt until the mixture takes on the color of the preserves.
Step 3. Alternatively, if you want to add chocolate to your pretzel coating, put the melting chocolates in a microwave-safe bowl and heat for 30 seconds or until melted, then add to the yogurt mixture and mix until well-blended.
Step 4. Using tweezers, tongs or chopsticks, dip your pretzels into your yogurt mixture one at a time, coating them completely and laying them out on wire cooling racks placed on top of baking sheets.
Step 5. When all your pretzels are coated and laid out, turn the oven off and place the baking sheets and wire racks inside, leaving the door ajar to prevent the pretzels from becoming soggy.
Step 6. Let the coated pretzels harden for 3-4 hours, then remove them from the oven. Enjoy! Make sure to store your leftovers in an airtight container.
Order Yogurt-Covered Pretzels From Sincerely Nuts
If you love the idea of homemade yogurt pretzels but can't spare the time for preparation, Sincerely Nuts has you covered. We offer a variety of delicious yogurt-covered pretzels in bulk for your convenience and enjoyment. Browse our selection of tempting flavors, including blueberry, cinnamon, chocolate, peanut butter, raspberry and more. Order your favorites today.