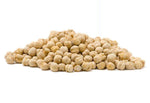 Sold Out
Chickpeas
Extremely rich in fibre, salted chick peas are first roasted and then humidified and made into scrumptious healthy snacks.  For anybody who thinks that chickpeas are not an enticing snack, they would definitely change their opinion after they have tasted chickpeas offered by Sincerely Nuts. Healthy snacking is becoming the slogan of the day and chickpeas surely fit into this regime.
Roasted chickpeas can be made in any number of flavours as you want. You can roast them with garlic, parmesan, chilli flakes, basil cinnamon, pepper and many more. There is no end to the combinations. Plain white chickpeas can be boiled and added to any vegetable or meat gravies. They make tasty toppings on salads, especially tuna salad.
View Products
At Sincerely Nuts, golden natural chickpeas or garbanzo beans as they are called, are specially selected to make your snacking or cooking a wonderful experience. This legume is full of goodness. You can add it to almost any food you want to obtain the rich benefits chickpeas have to offer. They can be pureed and added to chops, or had just plain boiled. Chickpeas when blended acts like a sponge and can absorb any flavour.
Chickpeas grow in hot climate and are found in India, Mexico Egypt etc. The famous hummus, a Middle Eastern spread, is one of the most popular dips all over the world. It is nothing but chickpeas blended with garlic, tahini, salt and oil. Hummus is a great snack or appetiser used with pita bread. Next time you want to serve that fresh hummus and surprise your guests do not forget to order the fresh white chickpeas from Sincerely Nuts. All orders are packed and shipped within a day and most credit cards are accepted. The main aim of the store is to provide a healthy snacking alternative and excellent customer service.
Chickpeas are available in almost any part of the world. Italians add basil, oregano and other herbs with chickpeas. Chickpeas are also a dieter's delight. Since it is so full of protein and hardly any fat they can be substituted for deep fried snacks by boiling and eaten with flavours of your choice or by simply having the roasted salted chickpeas from Sincerely Nuts.
Chickpeas have been cultivated as early as 7000 years ago and yet it is still one of the most favoured legumes because of its ease to use and its goodness for health, apart from being protein rich it is full of high fibre and magnesium and zinc.  It is said to have a low glycaemic index and hence can be used by people with diabetes as a healthy snack. 
Next time you need some fresh good quality chickpeas, order them online at Sincerely Nuts. You can be assured of prompt delivery, hygienically packed chickpeas which offer great value for money. They accept all major credit cards and PayPal, Amazon and Google checkouts. If you have any issues with your order they have a very friendly customer service department to sort out your grievances. If you are still not satisfied you can even return you goods on certain conditions.