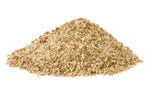 You may have heard people talking about almond flour, but have you ever used this fun alternative to traditional flour in your recipes? You can substitute almond flour for regular flour in just about anything, from cookies to breading on fish and chicken. When you make that swap, you get a nutty flavor that nicely balances whatever you make.
In addition to fun new flavors, you also enjoy other benefits. Here are five reasons baking with almond flour will become your new obsession.
1. Almond Flour Contains Loads of Nutrients
You want the best ingredients for your family when you cook. Almond flour certainly fits that description. It is made from ground-up almonds and nothing else, giving it a purity you won't find with other flours. Plus, almonds are packed with nutrients. Just a few of those you'll discover in almond flour include:
Magnesium
Vitamin E
Iron
Potassium
Calcium
2. Almond Flour Is Gluten-Free
Do you follow a gluten-free diet? Whether you do so for health reasons or you are allergic to wheat, eating gluten-free can be a daily challenge. You undoubtedly still want to enjoy treats on your special diet, so cooking with almond flour is the way to go. Almond flour does not have any gluten, since it's made entirely from almonds.
You can replace the regular flour in many recipes with the same amount of almond flour and a bit of a thickener, like xanthan gum. Experiment and see what recipes taste best when you bake with almond flour.
3. Almond Flour Has a Low Carb Content
If you count carbs, then you know traditional flour is laden with them. Almond flour, by contrast, has a very low carb content. One serving of almond flour provides just 2 percent of your daily recommended value for carbohydrates.
4. Almond Flour Is Packed With Protein
If almond flour doesn't have a lot of carbs, what does it have? Tons of protein. Every serving of almond flour has a great amount of protein, which does so much for your body. From stimulating the growth of healthy cells to protecting your immune system, protein is an important dietary staple for people of any age.
5. Almond Flour Gives Old Favorites a New Twist
There are many practical reasons to cook and bake with almond flour. In addition to all the advantages we've already listed, almond flour includes high levels of healthy fat. What matters most of all when you're in the kitchen is taste, and almond flour tastes great. It adds a new layer of flavor to every recipe. You will find yourself craving almond flour cookies, bread and other items with almond flour's distinctive, nutty taste.
Are you ready to use almond flour for your baking? You can order almond flour in bulk from Sincerely Nuts and get free shipping on orders of $60 or more. Stock up so you won't run out of your new favorite baking staple.