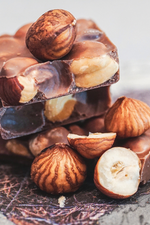 Got a sweet tooth you cannot seem to squash? We have you covered with these delicious chocolate and fruit bites. They can help curb your sweet tooth for a few different reasons.
Often, when we crave sugar, it is not only about the fact that sugar is an addicting ingredient. It is frequently because we are not getting adequate nutrition and minerals in our daily diet. Your body could be craving more minerals like iron, magnesium, manganese, and much more.

Once you try these easy and tasty chocolate bites, you will wonder why you have not tried something like this sooner. The whole family is bound to love these, so be sure to try them out soon. They are great to have around the house for an energy boost and sweet tooth craving.
Check out the easy recipe below to have a healthy, sweet snack to get you through the day.
Apricot, Dark Chocolate, and Filbert Bites:
Prep time: 5 minutes
Cook time: 45 minutes
Total time: 50 minutes
Ingredients:
1 cup filberts(roasted and unsalted, chopped)
1/2 cup dried apricots(chopped)
3 ounces dark chocolate
1/2 cup confectioners' sugar(sifted)
2 tbsp coconut cream (full fat)
1 tsp. almond extract
3 tablespoons avocado oil
Directions:
Line baking sheet with parchment paper.
On medium heat, warm filberts until lightly toasted for around 2 minutes. Add apricot pieces and sprinkle a bit of sugar. Stir until sugar has melted. Add and flatten mixture on baking sheet.
In a double boiler, melt chocolate and oil, then mix. Remove from heat and add coconut cream and almond extract. Stir until it starts to thicken. Pour chocolate mixture over fruit and nuts, spread over entire mixture. Put in refrigerator for about 2 hours. Cut and enjoy!
Apricots provide a ton of nutrition such as vitamin A, C, magnesium, calcium, iron, and even zinc. They are a superfood that can help to boost your immunity and curb your sweet tooth at the same time. Filberts are also full of the same nutrition, along with vitamin E, and B vitamins.
This is a healthier option to your traditional sweet treat that will surely curb your sugar and chocolate craving. Try out this recipe for a healthier nut and fruit nutrition in your regular diet. Want a quick snack you do not have to bake? Grab some dark chocolate covered filberts here.