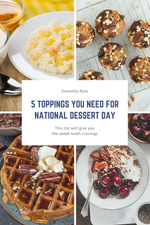 Happy National Dessert Day! Today is a reminder to treat yourself when you can to your favorite sugary treat.
Did you know that the term "dessert" comes from the French word dessservir, that translates to "clear the table?" It's time to clear the table and make room for sweet treats.
But there are a few more interesting factoids about dessert day that you may not know. Ancient civilizations used to provide treats like honey and dried fruits to their gods, and we know why. They are delicious and nutritious.
The ancient Greeks even specialized in sweet bread with nuts to make their own cakes as a tasty dessert. Ancients Greeks may even have some hold to where the term dessert originated from.
So how can you pay homage to the Greeks and celebrate National Dessert Day? By getting some tasty and even nutritious sweets into your life like dried fruits, and even honey-flavored nuts with coconut and much more.
We're here to help you find what works best for your taste-buds this National Dessert Day.
This ancient snack would have certainly been approved in Ancient Greece. Honey and nuts were some of the prime snacks available, providing much delight as well as a boost of nutrition.
Looking for a healthy but delectable treat to take to work, pack in the kids' lunchboxes or keep in the pantry to munch on when you're trying to avoid a craving? Sweet, crunchy, and natural, these almonds are for your enjoyment to add to your favorite dessert today or you can even just snack on them plain.
Unlike candies and cookies, you may want to turn to when you have a hankering for a sweet snack, all-natural honey sliced almonds offer numerous health benefits. They promote heart health, help maintain blood sugar regulation, are high in antioxidants, can assist with weight loss, and much more.
These delicious, protein-packed nut slivers are topped with a sugary honey glaze for an oh-so-sweet snack that provides essential nutrients like magnesium that can help to create a sense of calm in the body. Grab some of these delicious almond slices to add to all your favorite meals, especially breakfast to satisfy your sweet tooth all year-round.
Coconut chips are the perfect addition to so many of your favorite sweets and meals like breads, muffins, pancakes, waffles, smoothie bowls, and much more.
These organic coconut chips have a delicious flavor and enticing texture that will taste great in all your recipes. For coco palms to yield rich-tasting fruit, they require a tropical climate and well-draining sandy soils. And that's why we get these premium raw organic coconut chips from the Philippines, ensuring the fruit is harvested at its prime to make for mouthwatering flavor.
We only process dried coconut chips that are grown without any chemicals, and don't add any sugar or preservatives to give you a wholesome treat. Coconuts are a staple in many parts of the tropical belt, renowned for their serving of heart-friendly fats, minerals, vitamins, fiber, and healthy energy.
We've become the go-to source to buy organic coconut chips online thanks to our irresistible freshness. You can even store our coconut chips in the refrigerator for up to six months!
Treat yourself to this tasty, nutritious, and keto-friendly addition to your favorite sweets and meals this National Dessert day and all-year round for added benefits.
There is nothing better than nature's candy. Dried apples are the perfect sweet treat to add to tons of mixes this National Dessert Day. You can mix dried apples in plenty of your favorites for a sweet craving and a nutritious boost to boot.
It's the perfect time to embrace the apple season. Try to make Apple Pie Energy Balls by combining dried apples, almond butter, a dash of honey, raw oats, and raisins in a food processor. Pulse until mixed, then form dough into balls.
You can even add these easy-to-use dried apples to your next dinner in a pumpkin or squash-based soup for a seasonal treat to get the sweetness started even before dessert!
You know what they say, an apple a day…and there is truth to that. These fruits have an array of nutritional benefits that help keep your body in tip-top shape. They make a fantastic source of antioxidants, which helps to rid the body of harmful free radicals.
Dive into nature's candy to curb your sweet tooth and stay healthy all-year round.
There's more where nature's candy come from. If you're not a fan of dried fruit, you haven't tried our famous diced pineapple. 
Pineapple is not only a sweet treat that will curb any sugar craving, but also great for your health. Rich in bromelain, pineapple can help to sooth a sore throat, because it has powerful anti-inflammatory properties.
Looking for a delicious pineapple cake to celebrate the day? Try out a cashew pineapple cake and top it with our famous cashews and diced pineapple for a crunchy and sweet topping.
Our pineapples are great for a snack whenever you get a desire for something sweet.
Pecans are a favorite addition among baked goods, like pies, cakes, muffins, and much more.
They are an instant favorite for fall-favorite desserts as well. From quick pecan pie bars to elaborate pecan pies, our pecan halves and pieces are ready for whatever you are.
Besides amazing flavor, there are lots of other reasons to choose pecans over other foods. Get in some important healthy nutrients like B vitamins, vitamin E, and more to protect your heart and overall health.
Don't forget to grab some sweet and delicious pecans and honor your cravings and your health today.
Looking for another topping to curb your sweet tooth? Check out our full list of toppings here to get your sweet treats started.
Happy National Dessert Day from everyone here at Sincerely Nuts!