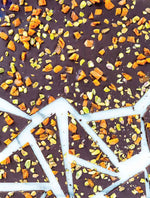 SERVES 10 TO 12

PREP TIME: 10 minutes
ACTIVE TIME: 15 minutes
INACTIVE TIME: 60 minutes
INGREDIENTS
2½ cups vegan dark chocolate chunks (or chips; soy-free if necessary)
2 teaspoons coconut oil
⅓ cup roughly chopped pistachios
Heaping ½ cup chopped dried apricots
Flaked sea salt
INSTRUCTIONS
1. Line a baking sheet with parchment paper or a silicone baking mat. If possible, use binder clips to clip the edges of the paper to the rim of the sheet. This will hold it in place when you're spreading the chocolate.
2. Melt the chocolate with the coconut oil in a double boiler or a heatproof bowl on top of a pot of boiling water, stirring frequently, until smooth.
3. Pour the chocolate onto the prepared baking sheet and use a silicone spatula to spread it until it's about ¼ inch (6 mm) thick. Sprinkle the top with the pistachios and apricots, then with salt. Refrigerate for 1 hour, or until completely set.
4. Break the bark into pieces and place the pieces in cellophane bags tied closed with string or in a cute box. Store in a cool, dry place.

VARIATIONS
You can, of course, use different dried fruits and/or nuts in this bark. Just use equal quantities as listed and you'll be golden.
For a nut-free option, use shelled sunflower seeds or pepitas (pumpkin seeds).

TIP To really make this bark stand out, use high-quality, high-cacao-content chocolate.
Find this incredible ingredients and more at