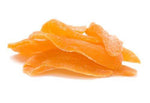 With summer's hot, bright and blazing upon us, we're all in need of some sweet, cooling, refreshing snacks to keep us powered through the heat and give us something to enjoy on those warm summer nights. If you're in need of some tangy, tasty treats to tempt your taste buds and bring to picnics and parties this season, there's no better ingredient to base your culinary endeavors on than dried mango. Tangy, sweet and full of nutrition, dried mango snacks are the perfect summer indulgence.
Need some inspiration to kickstart your summer mango recipe quest? Here are some delicious dried mango recipes to get your dried mango nutrition journey going:
Summer Mango Salad
Looking for an easy mango appetizer recipe to bring to picnics, parties and outdoor get-togethers? Start your summer off with this fresh, tangy salad recipe your friends and family will love. Here's how to make your own, beginning with what you'll need:
1 can black beans
1 mango
1 avocado
1 tablespoon lime juice
2 tablespoons red onion
1/4 cup mint leaves
2 tablespoons extra-virgin olive oil
1 tablespoon rice vinegar or white balsamic vinegar
1/4 teaspoon ground cumin
1/4 teaspoon chili powder
1 package dried mangos
Salt to taste
Start by rinsing and draining your black beans and peeling and slicing both your mango and avocado into small chunks, placing them in separate bowls. Toss your avocado chunks with fresh lime juice. Dice your red onion and wash your mint leaves, slicing them into strips. Combine your beans, avocado, mango chunks, mint and onion in a bowl, stirring gently to avoid crushing the avocado. Next, stir together olive oil, vinegar, cumin and chili powder in a small bowl, whisking until smooth, and drizzle over the rest of the salad, gently mixing in. As a finishing touch, crush your dried mango slices into smaller pieces and sprinkle them over your fresh salad for an extra tangy crunch.
Sweet Mango Chutney
Searching for a sweet and spicy treat to spread on your toast, put out as a dip, spread on sandwiches, serve with cheese or add to your meat dishes? This delicious dried and fresh mango chutney will have you craving it all summer long. Here's what you need to concoct your own:
2 cups sugar
1 cup distilled white vinegar
6 cups fresh or canned mangoes, cut into chunks
1 onion
1/4 cup crystallized ginger
1/2 cup golden raisins
1 garlic clove
1/4 teaspoon red chili pepper flakes
1 teaspoon mustard seeds
2 packages dried mangoes
First, combine sugar and vinegar in a large pot over medium heat, bringing to a boil and stirring until the sugar dissolves. Next, add mango chunks, diced onion, ginger, raisins, diced garlic clove, chili pepper flakes and mustard seeds and simmer, uncovered for 45 minutes to an hour or until the mixture thickens and becomes syrupy, stirring occasionally. Let cool, then mix in crushed dried mangoes and stir in for an extra touch of crunchy flavor.
Cool Mango Margaritas
Cool off by the pool or on the balcony with these summery mango margaritas! Here's how to mix up your own. You'll need:
2 whole limes
2 tablespoons coarse sugar
20 ounces drained mango chunks
1 package dried mangoes
1 1/2 cups tequila
1 1/2 cups triple sec
1/4 cup sugar
Begin by zesting your limes, laying out the zest to dry and then mixing the lime zest with some coarse sugar to make lime sugar. Next, drain your canned mangoes and add them to a blender with about half your package of dried mangoes for extra flavor and texture. Add ice, tequila and triple sec to your blender, squeeze in lime juice and throw your sugar on top, then cover and blend to your desired consistency — mostly smooth but a little chunky is usually perfect. To serve, rub a wedge of juiced lime around the rim of your glasses, dip them in the lime sugar to coat the rims with a sugary film and pour your margarita mixture into your glasses. As a finishing touch, add some decorative slices of dried mango to the top of your drink to enjoy. Cheers!
Start Your Dried Mango Recipes With Sincerely Nuts
Looking for the best source for delicious dried mango slices? Sincerely Nuts offers only the best dried mango slices, organic dried mango slices, dried diced mangoes and spicy mango slices. Order online today to make your summer fresh!