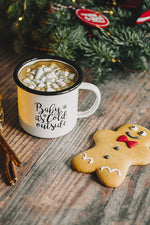 During the holiday season, it can be easy to over-indulge. With all the holiday sweets and decadent meals, we don't blame you! We eat lots of our favorite foods around this time of year, from sweets and snacks to big meals.
But, don't think that you can't eat healthy during the holidays! Whether you're looking for something to put out during a holiday party with friends or family or just something to munch on while you cozy up on the couch watching your favorite holiday movie, check out some of these tasty and healthy holiday-themed snacks!
Christmas Tree Cheese Boards
When you're planning a party, no matter how big or small, you need to put out some snacks for your guests. With a holiday-themed cheese board, you can get creative and put out a wide variety of different munchies!
Cut up some veggies and cheese, add some nuts or put in anything you like! You could even arrange everything into a festive shape, like a Christmas tree, snowman, tree ornament or more! Depending on the colors of the foods you put out, you can really get creative.
This snack is sure to be a big hit at your party. Your guests will admire your creativity, and it will look amazing with your other decorations! The best part is that it's a cinch to make. If you have a little less time than you'd hoped, you just have to chop up some snacks and arrange them into the shape you want. Then, voila, you have a tasty and beautiful party snack for your upcoming holiday party.
Superfood Bites
You can easily make some sweet and salty superfood bites with just a few ingredients. All you have to do is melt some chocolate, spoon it onto some parchment paper and top the circles of chocolate with chopped dried fruit and nuts or seeds.
We recommend using a nice dark chocolate to make these superfood bites. It will pair perfectly with the salty and slightly sweet ingredients you add on top. These superfood bites let you get creative, too — whatever you think will pair well with dark chocolate, give it a try! You can play around with different flavors.
This snack works great for just snacking on at home or serving at a party.
Gingerbread Granola
Put a holiday twist on a favorite that you eat all year long. Mix up your granola like usual, with oats, honey, vanilla, cinnamon and more. Make it a fitting snack for the holidays by sprinkling in some ground ginger, too!
Gingerbread granola is a great versatile snack. You can always mix in some other ingredients, too, like raisins or other dried fruit. Keep it simple or make it your own! You can bring it to a party, give it as a gift or enjoy it on your own at home! There's no wrong way to munch on a delicious granola blend.
Sincerely Nuts has a wide selection of top-quality ingredients you can use for any of these recipes! Browse through today and pick up the right quantity you need for healthy holiday snacking!