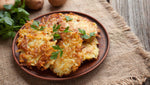 As one of the most festive holidays on the Jewish calendar, Purim offers bakers and cooks the opportunity to shine for family and friends. Although many people make the same dishes year after year, some routinely seek out new Purim recipes to introduce to their tables.
If you have been searching for innovative or traditional Purim recipes to add flavor to this year's celebration, try out these two suggestions.
1. Caramelized Chicken With Dried Fruit
What could make a humble chicken truly unforgettable? The answer is a savory-sweet sauce comprised of seasonings, juices and dried fruits.
Combine the following ingredients:
A cup of orange juice
2 tablespoons lemon juice
A cup of your favorite dried fruit (minced or diced)
4 tablespoons crushed garlic
1 tablespoon fresh ginger
1 tablespoon oregano
1 tablespoon thyme
A half-cup of red wine vinegar
1 teaspoon kosher salt
1 teaspoon black pepper
A half-cup brown sugar
A third of a cup white wine
4 tablespoons olive oil
Allow the mixture to sit for at least 10 to 15 minutes, so the dried fruit bits soften.
In the meantime, place two uncooked chickens in matching roasting pans. Pour the mixture over both chickens, then cover and marinate the chickens in the refrigerator for at least four hours. When you are ready to cook the chicken with dried fruit, heat the oven to 375 degrees Fahrenheit and cook the chicken uncovered until it reaches an internal temperature of 165 degrees Fahrenheit.
Serve this Purim recipe with a drizzle of the sauce from the pan and a few bits of dried fruit.
2. Traditional Latkes
Love the flavor of fresh latkes? If you want a fast, no-fail way to prepare and cook these fried side dishes, bookmark this traditional Purim recipe. You'll need:
12 to 15 white potatoes
Four yellow onions
Six eggs
A cup of matzo meal
3 tablespoons of salt
2 tablespoons of black pepper
Cooking oil
Peel your potatoes and place them in a bowl of very cold water. One by one, grate the potatoes along with the yellow onions. Be sure to drain the liquid that comes from the potatoes and onions periodically.
After grating the potatoes and onions into one big bowl, add the eggs. Mix everything well using your hands or a sturdy spoon. Add the matzo meal to the bowl, as well as the salt and black pepper. Stir all ingredients.
Pour oil into a large pan until it reaches no less than a quarter of an inch in depth. Heat the oil until hot. Create latke "cakes" by hand or using two spoons. Drop a few cakes into the oil, making sure they do not touch. When they are golden brown underneath, turn them once with a slotted spoon. After the other side is browned, remove each cake to a waiting plate covered with paper towels to drain excess fat.
Continue making latkes until all the "cake" batter is used. Latkes are best served fresh and hot.
Enjoy the Best Purim Foods Year-Round
Of course, you do not have to wait until Purim to try new recipes. Surprise your household members and guests with fun, creative recipes any season. Be sure to include some kosher nut appetizers to your dinner table to sate everyone until the meal is ready!