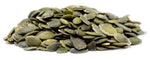 Pepitas, or pumpkin seeds, make an outstanding snack. They are portable, pack a protein punch and are easy to customize if you know the right recipe.
Why snack on pepitas? They have a lot of nutritional benefits. They contain high levels of magnesium and zinc, which can help lift your mood and strengthen your immune system. They help regulate insulin levels among people with diabetes and assist in lowering cholesterol. The tryptophan in pumpkin seeds can improve the length and quality of your sleep, and they make a tasty source of omega-3s.
Spicy Pepitas Recipes
There are many ways to enjoy the advantages of pepitas. One of our favorites is to whip up a batch of spicy pepitas. We have three different recipes that will appeal to different palates. See which one your family prefers — or stick with whichever you like the best. After all, the cook gets the call in the kitchen.
Spicy Pepitas With Cumin
Ingredients:
1 teaspoon lime juice
½ teaspoon salt
1 teaspoon cumin
1 teaspoon cayenne pepper
1 teaspoon chili powder
2 cups pepitas
Directions: Add all ingredients except lime juice to a bowl and stir thoroughly to distribute the spices evenly across the pepitas. Drizzle with lime juice. Preheat oven to 375 degrees Fahrenheit. Toss the coated seeds onto a baking sheet and cook for five minutes. Shake the pan twice while cooking. Remove, let cool and devour.
Spicy Paprika Pepitas
Ingredients:
⅛ teaspoon cayenne pepper
2 teaspoons extra-virgin olive oil
Pinch of sea salt
1 teaspoon paprika
1 cup pumpkin seeds
½ teaspoon Spanish paprika
Directions: Toss the seeds with 1 teaspoon olive oil and salt, and cook in oven preheated to 350 degrees F for 12 minutes. Remove from oven and pour into bowl. Add remaining olive oil and spices, as well as another pinch of salt.
Sugar and Spice Pepitas
1 egg white, beaten
1 tablespoon chili powder
½ teaspoon salt
¼ teaspoon cayenne pepper
⅓ cup sugar
1 teaspoon cinnamon
2 cups pepitas
Directions: Mix all ingredients in a bowl, starting with pepitas and egg white. Preheat oven to 350 degrees F. Layer pepitas with spices onto a baking sheet and spread out. Cook for 15 minutes and then cool.
Pepitas offer the perfect balance of nutrition and tastiness. You can customize each of these recipes based on your tastebuds. Want more sweetness? Kick up the amount of sugar you use. Want more spice? Add an extra dash of cumin or chili powder. Whatever your favorite flavor of pepitas, order from us today to enjoy these recipes, and share this post on Facebook to show your friends these great recipe ideas.