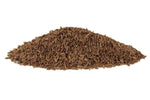 You might be wondering "What is caraway?" — and you're not alone. If you don't know what a caraway seed is or what it's used for, don't worry. Many people don't realize how common the small seeds are! But if you've ever tasted rye bread, you'd tried a caraway seed.
Caraway seeds have a strong smell resembling anise and add a slight flavor of licorice to dishes. Popular throughout Europe, caraway seeds offer several health benefits like regulated digestion. They can also add unexpected, complex flavors to desserts, stews, vegetables, cheeses and condiments. With a bit of cooking creativity, you'll find caraway seeds will be your favorite new kitchen pantry staple.
What Are Caraway Seeds?
Caraway seeds are actually not seeds at all — they are the dried fruit of the caraway plant, a biennial flowering plant of the Apiaceae family. This plant family also produces celery, carrot, fennel and parsley, and is known for its hollow stems and strong, fragrant smells. When the caraway plant is mature, it develops a dried fruit containing a single seed. If properly harvested, these seeds can add zest and bold flavor to cooking.
How to Cook With Caraway Seeds
Many people wonder how to use caraway seeds in cooking. Featuring a strong scent and lingering flavor, caraway seeds are an intimidating flavor for many cooks. But their flavor can be compared as a mixture between cumin and fennel, with touches of licorice. Due to their fennel and anise flavor inspirations, caraway seeds are not universally popular at first whiff. However, if you're open to sampling distinct and complex flavor profiles, caraway seeds can add a fresh, sweet element to many dishes.
Caraway seeds are often used as a flavor enhancer for baking. They can be found in rye and soda breads, as well as traditional British baked goods. Many people also prefer to incorporate the seeds into savory dishes, given the flavor profile. Caraway seeds are often used to flavor tangy foods since they pair well with cabbage, garlic and pork. These seeds make an excellent addition to:
Potato salads and coleslaw
Tomato-based sauces and soups
Roasted potatoes and sweet potatoes, peas and carrots
Shortbread or Irish soda bread cookies
Baked apples or pears
Using Caraway Seeds as a Flavor Substitute
Because caraway seeds are a member of the celery and parsley family, they can make a wonderful and bold substitution in recipes calling for coriander seeds or cumin. When replacing cumin with caraway seeds, you will lose a bit of that characteristic heat that makes cumin a popular flavor.
It's best to start slow, using only half the recommended measurement and tasting as you go to find the right balance of flavors. Once you find that perfect balance of substituting caraway seeds in your favorite family recipes, you'll wonder why you didn't start sooner!
Spice Up Your Favorite Recipes With Caraway Seeds From Sincerely Nuts
We want to help broaden your flavor horizons with our selection of caraway seeds. At Sincerely Nuts, we stock and sell only premium quality products that are delivered fresh to your door, guaranteed to add bold and fun flavor to your next meal.
Check out our selection of caraway seeds and enjoy free shipping on all orders over $60.