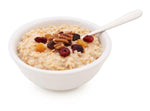 Breakfast is called the most important meal of the day for a reason. Eating a healthy and filling breakfast helps set you up to have a great day and get everything done that you need to. Skipping out on breakfast or choosing unhealthy foods can make you crash later or not have enough energy to get everything done.
Oatmeal is a popular breakfast food because of its nutritional value, simple preparation and delicious taste! Eating plain oats is too bland for most people, but don't worry — there are lots of different ingredients you can add to your oatmeal to make it amazing!
Whether you're cooking some oatmeal from scratch or using the instant kind, here are five of the healthiest options to add to your oatmeal.
1. Fresh or Dried Fruit
Fresh or dried fruit will add a great flavor to your oatmeal without adding a lot of extra time. You can cut up fresh fruit right as you're boiling your oats or put them in later on. To save even more time, you can cut up your fruit the night before!
Dried fruit is even easier to add in than fresh — just grab a handful and toss it into your bowl! Dried fruit is an simple way to eat some of your favorite fruit without the hassle of cutting it up yourself. If you love pineapple, you have to either get through the hassle of cutting one up or pay a much higher price for a pre-cut package. But, with dried pineapple, you can have that taste you love!
2. Nuts or Seeds
Nuts and seeds are small but packed with lots of protein and nutrients! Different types can give you unique health benefits. Flax seeds can help moderate blood sugar levels because they contain lots of magnesium. Add some sliced almonds as a part of your weight management efforts. Almonds make you feel fuller, helping you stay on track.
3. Spices
You can add some fantastic flavor to your oatmeal if you like to keep your breakfast simple. Sprinkling in some of your favorite spices is also the best way to take your oatmeal a step further when you're running low on time.
Cinnamon is a classic spice to add to oatmeal. But, don't count out all the other ones out there! Allspice, pumpkin pie spice, nutmeg and brown sugar all go perfectly with oatmeal.
4. Egg Whites
Adding egg whites to your oatmeal may seem like a strange one, but it gives your oatmeal a great texture and flavor without adding lots of extra calories. Add in your egg whites while your oats are simmering to make the serving a little bigger. The egg whites will also make your oatmeal creamier and add more protein, giving you more energy to tackle the day.
5. Spreads
Try putting some peanut butter, fruit jam, almond butter or another type of spread on your oatmeal for a delicious add-in. Spreads are a great pick because they tend to have a longer shelf life than nuts and add those same great tastes you love. You can even make your own nut butter — just take your nuts, like walnuts, and boil them quickly. Then, blend until they reach the right consistency.
The next time you're making yourself some delicious oatmeal for breakfast, consider adding any of these five delicious and healthy ingredients.