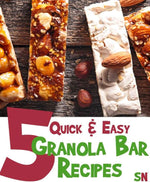 Are you looking for a tasty snack that will keep the kids satisfied during that tricky period from the end of school to dinner time? Or maybe you are in search of something quick and easy to grab on-the-go for breakfast or a nutritious snack to enjoy after a workout or in the evening instead of dessert. Then the answer to all of your problems (yes, all of them) is a healthy granola bar.
This granola bar recipe is perfect for your family as it has been tried, tested and then tried again and approved by families across the nation. Have a go at this super simple base granola bar recipe and then add the funky variations and ingredients that follow to make them exciting for the family.
The Base Recipe
Here is a list of all of the ingredients you need to make some quick and tasty granola bars. Have a look at the extra ingredients that follow in order to keep them fresh and original.
Recipe yields 12 bars.
Ingredients
¾ cup of old fashioned rolled oats
¾ cup of coarsely chopped almonds
⅓ cup of honey
⅓ cup of unsalted butter
½ cup of light brown sugar
1 ½ teaspoons of vanilla extract
⅓ teaspoon of sea salt
1 cup of toppings and extra ingredients, (3 ingredients per batch, ⅓ of a cup per ingredient)
Directions
Preheat the oven to 350 degrees fahrenheit.
Line the bottom of a square tray with aluminium foil and grease then place in the oven.
Toast almonds and oats together for five minutes, then stir and toast for a further 3 to 5 minutes.
Combine the honey, unsalted butter, light brown sugar and vanilla extract to a saucepan on a low heat for a few minutes until butter melts and sugar dissolves.
Take off of the heat and stir in the oat and nut mixture and salt and combine.
Add any extra ingredients. (If using chocolate, allow the mixture to cool for 15 minutes before adding it).
Spoon the mixture into the prepared tray and press it down using the back of a greased spoon. Sprinkle over the mixture any ingredients you would like as toppings, pressing them down lightly into the mix with your fingers.
Chill the bars in the refrigerator for at least 2 hours.
For softer bars keep them at room temperature. For crunchier bars store them in the fridge.
Toppings and fun additions
Try out the following toppings and extras and see which ones your family love the most.
Black Forest with Pecans
⅓ cup of dark chocolate, broken into small pieces or dark chocolate chips
⅓ cup of dried cherries
⅓ cup of coarsely chopped pecans
Tropical Medley
⅓ cup of shredded coconut
⅓ cup of dried fruit (mango, pineapple, peach)
⅓ cup of crushed walnuts
Chocolate Takeover
⅓ cup of milk chocolate, broken into small pieces or chocolate chips
⅓ cup of white chocolate, broken into small pieces or chocolate chips
⅓ cup of cashews
Ginger Spice
⅓ cup of candied ginger
⅓ cup of coarsely chopped pecans
⅓ cup of almonds
½ a teaspoon of cinnamon (add this with the salt)
Oatmeal Cookies
⅓ cup of raisins
⅓ cup of blueberries
⅓ cup of cashews
½ a teaspoon of cinnamon (add this with the salt)
There are so many fun things you can do with granola bars to keep them new and inspiring. Once you have given the recipes a try, play around with the quantities of each ingredient to make the granola bars just as your family likes them.
Author Bio
Carl grew up learning how to cook from his parents as well as working in a high-volume catering operation while in college. He now enjoys spending time with his family and writing for his blog Ktchndad.