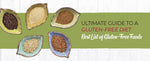 Tackling the job of a new diet is tricky, but there's no denying the excitement. You're launching into a habit that can fortify your health and joining a movement that is overtaking America.
Americans have been adopting gluten-free diets in masses — in fact, the number tripled from 2009 to 2017. However, the meaning and benefits of gluten-free living can be murky for many people.
As you kick off your journey, this guide can assist you in learning about gluten, gluten-free foods and useful tips.