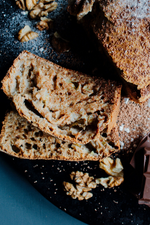 As the Holidays approach, the sweet and savory recipes will ensue. But how about trying a satisfying bread that can give you a boost of energy to get you through the holidays, too?

We have you covered at Sincerely Nuts, with a savory walnut bread for all seasons.
Check out the quick recipe and health benefits below to try this out for the whole family to enjoy.
Amazing Walnut Bread:
Prep time: 5 minutes
Cook time: 3 hours
Makes: 1 Loaf
Ingredients:
4-1/2 tsp. ghee, softened
1 egg or you can use a Flax egg (See recipe here)
2 tbsp. dry coconut milk powder
2 tbsp. brown sugar
1 tsp. salt
3 cups bread flour
3/4 cup chopped walnuts, toasted
1-1/2 tsps. active dry yeast

Instructions:
In bread machine pan, add all ingredients. Select basic bread setting. Select crust color and loaf size. Bake according to machine directions (check dough after about 5 minutes; add 1 to 2 tbsp of water or flour if necessary).
Change up your bread occasionally with this healthy and homemade addition instead. Why use a flax egg sometimes? Flax seeds have a ton of nutrients that can help to balance hormones, provide more fiber, antioxidants, and more to your diet. Because it can balance hormones, it can even help to lower stress levels. During the holiday season, that can only help.

Check out this delicious walnut bread today and let us know how you liked it!