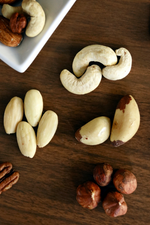 Both Brazil nuts and macadamia nuts have similar textures and flavors, and they are on the larger side of the nut family. Also, they are both famous for packing in a ton of nutrition, but we're here to weigh out the benefits of each, along with what you can do to add in more versatility in the kitchen and your favorite recipes. Brazil nuts and macadamia nuts have mild flavors as well.

Let's dive right into brazil nuts, first. Brazil nuts are full of antioxidant power, which can help to reduce free radical buildup in the body. The benefits of brazil nuts are far and wide, and that can happen even just with one to three nuts.
More benefits of brazil nuts include their high content of selenium, and even just one to three gives you enough for the day! Brazil nuts can be amazingly effective for women with hormonal issues because of their high selenium, zinc, magnesium, and more.

Check out the list below to see the exact mechanisms and capabilities of what brazil nuts can do to boost your health throughout the body.

Benefits of Cashews:
Supports thyroid function and can improve thyroid disorder
Rich in key nutrients (Zinc, selenium, vitamin E)
High in fiber (Regulate bowel function)
Rich in healthy fats (Enhance brain health)
Can help with weight loss
Good nutrition source for skin health
Boost heart health
High in magnesium (Benefit muscle, bone, and heart health)
These powerful nuts are not only a nutrition powerhouse, but they are also a helpful addition in the kitchen. If you didn't know where to add brazil nuts to your diet, we're here to help you out.
Brazil nuts can be a great versatile nut choice in the kitchen. Brazil nuts are naturally bland in flavor, which makes them a great addition to smoothies without sacrificing much of the taste. They are also great with trail mix or even brazil nut bread, cookies, and chocolate balls.

Check out the list below to see how adding more brazil nuts can help benefit you.
Versatility of Brazil Nuts:
Change a chocolate craving to add in some more nutrition with our dark chocolate bridge mix
Try out some brazil nut cookies for a change and an energy boost.
Bake a brazil nut bread
Add Brazil nuts to your next smoothie or chop small in a yogurt with berries
Snack on them plain to curb your appetite and keep you full longer
No one can argue, brazil nuts can be a wholesome and great addition to any diet to help enhance your immune system.
But, now let's move onto macadamia nuts. These are another classic nut that can provide a ton of nutrition and variety to your life as well.
Macadamia nuts can help to boost heart health, hair health, and much more. Check out the list below to see the power macadamia nuts can have on your body.

Benefits of Macadamia Nuts:
Lower heart disease risk
Curb appetite and keep you full longer
Protects brain health like memory, retention, and concentration
Can improve symptoms of diabetes
Great source of iron, magnesium, vitamin B6, fiber, and more
High in antioxidants (Helps prevent free radical damage)
Can improve gut health
Boost immunity
While macadamia nuts have tons of health benefits, they are also an excellent addition in the kitchen. Although macadamia nuts are bland, they do have a slight buttery type flavor unlike brazil nuts. That means there is even more versatility in the kitchen.
Versatility of Macadamia Nuts:
Bake with macadamia nut flour instead
Make a dairy-free cheese or milk
Add a homemade macadamia butter to a favorite healthy snack
Anything you add dairy too, swap it with a macadamia nut alternative instead!
Snack on them plain or in a delicious roasted nut

Brazil nuts or macadamia nuts are not necessarily better than each other. It all depends on what your unique needs are and if what you prefer. If you have hormonal fluctuations like a thyroid disorder, you can benefit greatly from brazil nuts on a more regular basis.

If you enjoy something with a bit more flavor and want a non-dairy alternative, try out macadamia nuts. Which nut is your favorite or go to?