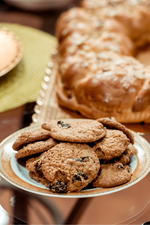 Cutting cookies out of your diet is no fun, and we at Sincerely Nuts want to make sure you get your cookies and your nutrition, too. And all of this without sacrificing the flavor or the texture.

Brazil nuts are a great option to get in more nutrition and add a hearty texture to your healthier cookies. Plus, did you know that cookies with artificial flavors make you crave more unhealthy foods?
That's why making healthier cookies can be so helpful to curb your sweet tooth and make it easier to manage portions.

Check out the easy brilliant brazil nut cookie recipe below to get your cookies, and heal your body, too.
Ingredients:
1 cup ghee, softened
1 cup brown sugar
2 eggs
1-1/2 teaspoons vanilla extract
2-1/4 cups almond flour
1/2 tsp. baking soda
1/4 tsp. salt
2 cups chopped Brazil nuts
1/2 cup shredded coconut
Instructions:
In a large bowl, mix ghee and brown sugar until light and fluffy. Add eggs beating well with each one. Add in vanilla. Add the almond flour, baking soda and salt; then start to add it all together slowly. Stir in nuts and coconut.
Add a few tablespoons to baking sheets. Heat for 10-12 minutes or until bottom of cookies are lightly browned. Let cool before enjoying on a cookie rack.
Enjoy!