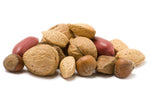 Nuts are delicious. Everyone from kids to grandparents loves grabbing a handful of nutty trail mix as a snack or munching on peanut butter cookies for dessert. Some people view eating nuts as an indulgence because they are sweet and salty and filling. On the contrary, nuts are an excellent health food and essential part of a balanced diet.
Nuts are known to be high in fat and calories, however, this is part of what makes nuts healthy! The fats in nuts are primarily monounsaturated fats, which are considered "good fats." These fats are naturally occurring and do not pose the same health risks as saturated fats and other fats found in processed foods. The monounsaturated fats in nuts can lower your cholesterol, regulate your blood sugar and provide other valuable nutrients.
The high-calorie count of some nuts is balanced out by the protein punch these nuts provide in each serving. Eating a portion of nuts — one ounce or a small handful — at least four times a week can boost your health in a variety of ways. Here are some health highlights of nuts:
Great source of fiber
High in protein
Rich in antioxidants
Lower bad cholesterol and raise good cholesterol
Reduce risk of heart disease
Help you feel full
Aid in weight loss
Contain valuable nutrients, such as magnesium, copper and vitamin E
Nuts are also integral to many popular diets. The ketogenic diet is a diet designed to turn your body into a fat-burning machine by eating low carbs, high fat and moderate protein. Due to their fatty nature, nuts like walnuts and macadamia nuts are a perfect addition to a keto diet. The well-known paleolithic diet also relies heavily on nuts as a source of natural protein and fats. Nuts are a great addition to other dietary choices, such as raw food diets, veganism and vegetarianism. Anyone looking to lose weight or simply maintain a healthy lifestyle should consider the health benefits of incorporating nuts in their diet.
Read on to learn more health benefits of different types of nuts and how to add them to your diet today!
1. Almonds
Almonds are a popular tree nut that is often consumed raw or roasted. Almonds taste great plain, on salads or blended into almond butter. Almonds are most often sold with the shell removed and are an easy and healthy snack.
Nutrients per Serving
Protein: 6 grams
Fiber: 3.5 grams
Fat: 14 grams
Calories: 161
While almonds are high in calories compared to other nuts, the body doesn't absorb 10 to 15 percent of these calories because of how difficult the fats are to break down. The high unsaturated fat content of almonds can be beneficial for people with diabetes, because foods with low carbs but high fat, protein and fiber can help prevent blood clots. Almonds are even considered a "superfood" because of their rich concentration of vitamins and minerals.
Key Nutrients in Almonds
Almonds are high in vitamin E and manganese, providing over 30 percent of the recommended daily intake of both nutrients. Almonds are one of the best sources of vitamin E due to the high concentration in each serving. Vitamin E is used to treat high blood pressure and heart disease, as well as alleviating diseases of the arteries. Vitamin E is also known to increase energy and improve physical endurance. An increase in vitamin E intake could lead to better workouts that would further boost your health.
Almonds also contain magnesium, vitamin B2, phosphorus, calcium and copper, as well as many antioxidants. Magnesium is a useful nutrient for blood sugar control, and antioxidants are known to reduce the risk of cancer. Almonds contain more calcium per serving than any other nut. Most of the nutrients in almonds are in the skin, so opt for raw or roasted almonds for the maximum benefit.
Our Favorite Ways to Eat Almonds
Almond flour: Almond meal or almond flour is a healthier alternative to traditional wheat flour and is great for anyone who wants to consume fewer carbs or avoid gluten. Almond flour can be used as a one-to-one substitute in any baked goods recipe and adds a naturally sweet, nutty flavor.
For dessert: Roasted and flavored almonds make a delicious and healthy treat that is a great substitute for unhealthy desserts like candy bars or cookies. Try dark chocolate almonds or toffee almonds to satisfy your sweet tooth without ruining your diet.
2. Brazil Nuts
Brazil nuts earn their name because they originated in tropical rainforests in Brazil, Peru and Bolivia. These tropical nuts are large and smooth with dark brown skin and pale center. Historically, Brazil nuts have been a staple for natives in the Amazon rainforest and have great benefits for hair and skin, as well as other health benefits.
Nutrients per Serving
Protein: 4.3 grams
Fiber: 2.2 grams
Fat: 19 grams
Calories: 184
Brazil nuts contain many valuable nutrients, including vitamin E, vitamin A and antioxidants, but perhaps the most unique health benefit of Brazil nuts is their high selenium content. Selenium is a healthy mineral that our bodies cannot produce but absorbs from our diets. Selenium increases metabolism to aid in weight management and contains antioxidants that protect from cell damage.
Beauty Benefits of Brazil Nuts
The combination of nutrients and high-fat content in Brazil nuts makes them extremely effective for improving skin quality, treating acne, reducing the signs of aging and even preventing skin cancer. Here are just a few ways Brazil nuts are great for your skin:
Speed up the cell turnover in your skin for a natural glow
Maintain cell membranes for smoother skin
Zinc content reduces skin redness
Vitamin A and E increase production of collagen for firmer skin
Omega 3 fatty acids can treat skin dryness, flakiness and eczema
Brazil nuts also have many benefits for hair health and appearance. Consuming Brazil nuts regularly can lead to smoother, shinier hair, increased hair growth and hair that is less prone to breaking or split ends.
Our Favorite Brazil Nut Recipe
Because Brazil nuts have a rich buttery flavor, they make the perfect feature of this Brazil nut pesto recipe. In a food processor, combine the following ingredients, adding the olive oil slowly while you puree until the pesto is smooth.
1/4 cup Brazil nuts
2 cups packed fresh basil leaves
1/2 cup Parmesan cheese
2 whole garlic cloves
2/3 cup extra virgin olive oil
1 tablespoon lemon juice, or to taste
Sea salt and black pepper to taste
This Brazil nut pesto recipe is easy to make and ready to eat in just a few minutes. The reason we love this recipe is that it is impossible to mess up and you can easily adjust it to your liking. If you don't have Brazil nuts in your cabinet, try substituting pine nuts or walnuts. You can also trade out the basil for fresh arugula or parsley. Create your perfect pesto with a mixture of your favorite nuts and fresh green herbs, blended just how you like it. Enjoy your Brazil nut pesto as a dip with crackers or veggies or mix it into whole grain pasta with roasted broccoli for a delightfully smooth dinner.
3. Cashews
Recognizable for their half-moon shape, cashews are a small light brown tree nut grown in subtropical climates. Cashews have a sweet and smooth taste that makes them perfect for consuming raw or roasted. Cashews are also a staple in many vegan and vegetarian recipes and can be used to produce vegan cashew cheese or cashew butter.
Nutrients per Serving
Protein: 5.1 grams
Fiber: 0.9 grams
Fat: 12 grams
Calories: 155
Cashews have very low fiber compared to other nuts, but are hardly lacking in valuable nutrients to make up for it. Cashews contain vitamin E, vitamin K, vitamin B6, zinc, iron, selenium, phosphorus, magnesium and copper. These minerals and vitamins are all essential to a healthy functioning body.
Cashews for Eye Health
One surprising health benefit of cashews is their ability to improve vision. Cashews contain high amounts of lutein and zeaxanthin, antioxidants that prevent damage to the macula. The macula is a small area in the center of the retina that allows you to clearly see objects directly in front of you. The antioxidants in cashews also help reflect UV rays away from the eyes to reduce the risk of light damage.
4. Corn Nuts
You have probably never seen corn nuts in a pack of mixed nuts. That is because corn nuts are not actually nuts at all. Corn nuts are roasted, toasted or deep-fried kernels from a type of Peruvian corn called Cuzco. Corn nuts are called "nuts" because they have the same rich and crunchy texture as nuts. Corn nuts make a yummy, salty snack that is a perfect healthy alternative to chips or pretzels.
Nutrients per Serving
Protein: 2 grams
Fiber: 1 gram
Fat: 5 grams
Calories: 130
Corn nuts share some of the health benefits of corn but vary in nutritional value depending on how they are prepared. Deep-fried corn nuts will have more fat content than roasted or toasted corn nuts, but will have a delicious, indulgent flavor. Corn nuts are not as healthy as other nuts, but still have some nutritional benefits:
Heart-healthy fat: Of the five grams of fat in a serving of corn nuts, 4.5 grams are healthy unsaturated fats. These healthy fats are great for lowering bad cholesterol.
Protein-packed: While they do not have as much protein as actual nuts, corn nuts are full of protein when compared to other traditional snack foods like chips.
Satisfy your salty snack cravings: Even though this may not seem like a health benefit, finding a healthier alternative to satisfy a craving can be a big step in the right direction for someone trying to stick to a diet plan. Instead of giving in to your snack craving and diving into a bag of pretzels, opt for healthier corn nuts instead.
Our Favorite Ways to Eat Corn Nuts
Plain: Roasted corn nuts are buttery and delectable without anything added. Indulge in corn nuts plain for a snack you don't have to feel guilty about.
Flavored: Explore our variety of seasoned corn nuts, or choose a variety pack for a healthy snack alternative that will please all your friends.
5. Hazelnuts
Many people are familiar with hazelnut as a flavoring in coffee on in chocolate hazelnut spread, but have never eaten — or maybe even seen — an actual hazelnut. However, hazelnuts can be a great addition to a balanced diet. Hazelnuts are small circular nuts, sometimes called "filbert nuts." Hazelnuts have a unique flavor that brings a sweet earthy tone to any dish.
Nutrients per Serving
Protein: 4.2 grams
Fiber: 2.7 grams
Fat: 17 grams
Calories: 176
One thing that makes hazelnuts unique is that they contain the highest amount of proanthocyanidins (PACs) compared to other nuts. PACs are beneficial to your health because they have 20 times more antioxidant activity than vitamin C and 50 times more than vitamin E. Antioxidants work as a cleansing agent in the body by removing harmful free radicals in the cells. PACs are also known to fight aging by maintaining youthful skin and maintaining cells. They also boost immunity to help your body ward off disease.
Hazelnuts are also known to boost brain function. Many of the nutrients in hazelnuts, including vitamin E, folate, thiamine andmanganese are known to keep your brain sharp and prevent degenerative diseases, such as Alzheimer's. Hazelnuts improve cognitive function so you can focus better and think more clearly. With all these powerful health benefits, there's no reason not to add hazelnuts to your diet.
Our Favorite Ways to Eat Hazelnuts
Add them to a fall salad with apples and dried cranberries
Mix them in roasted vegetables, like brussels sprouts or green beans
Top your roasted butternut squash or baked sweet potato with chopped hazelnuts
Bake a hazelnut and banana bread with chocolate chips
6. Macadamia Nuts
Macadamia nuts are small circular tree nuts that are native to Australia. You are probably most familiar with un-shelled macadamia nuts that are smooth and white. Macadamia nuts are also known as bush nuts, Queensland nuts or Hawaii nuts. Macadamia nuts have a mild flavor and satisfying crunch that makes them a great addition to a variety of recipes.
Nutrients per Serving
Protein: 2.2 grams
Fiber: 2.4 grams
Fat: 21.4 grams
Calories: 203
Macadamia nuts are high in fat and calories compared to other nuts. However, their health benefits make them worthwhile to enjoy as an occasional snack. Macadamia nuts contain vitamin A, iron, manganese, B vitamins, antioxidants, oleic acid and omega-9.
Health Highlights of Macadamia Nuts
Build healthy bones: Macadamia nuts contain potassium, calcium and magnesium which each promote mineralization of bones. As you get older, you are at greater risk of bone degeneration, so building strong bones and teeth is important to maintain a healthy body.
Promote blood and heart health: The fatty acids in macadamia nuts are great for preventing blood clots and reducing the risk of heart attack or stroke. They also help to lower blood pressure and help regulate blood sugar levels. Fatty acids also reduce inflammation which helps prevent coronary heart disease.
Aid in weight loss: While macadamia nuts have a higher calorie count, they only contain about 3.9 grams of carbohydrates per serving. This means they can help you feel full without weighing you down with carbs.
Our Favorite Macadamia Nut Recipe
White chocolate macadamia nut cookies are a favorite sweet treat. However, these cookies are often loaded with sugar. Our healthy twist on these classic cookies allows you to indulge and still feel great after you eat a cookie — or three.
Preheat your oven to 350 degrees.
Blend one egg, 1/2 cup applesauce, 1/2 cup coconut sugar and 1 teaspoon vanilla extract in a standing mixer.
With a spatula fold in 1/2 cup of macadamia nut flour, 3/4 cup whole wheat flour, 3/4 cup all-purpose flour and 1/2 teaspoon baking soda. While it is tempting for health nuts to use only whole wheat flour, all-purpose flour is necessary so the cookies do not fall apart. For an allergy-friendly cookie, you can substitute the wheat and white flour for 1 1/2 cups of gluten-free flour.
Add in 1/4 cup chopped macadamia nuts and combine until the batter is smooth. If you want to indulge, you can also add white chocolate chips or dried cherries.
On a baking sheet lined with parchment paper, drop the batter in heaping teaspoons.
Lightly press each cookie down and sprinkle them with coconut flakes.
Bake the cookies for 10 to 12 minutes or until golden brown.
Allow your cookies to cool before digging in. These delicious cookies make a great after-school snack or healthy dessert.
7. Peanuts
Peanuts are one of the most well-known nuts, with peanut butter being a staple in most American households. However, you may not know that peanuts can protect against gallstones and have been shown to help prevent depression!
Nutrients per Serving
Protein: 7 grams
Fiber: 2.4 grams
Fat: 14 grams
Calories: 161
Peanuts are a great source of protein, healthy fats and antioxidants. Peanuts also contain copper, manganese, phosphorus, vitamin E and vitamin B1. One of the nutrients in peanuts that makes them unique is biotin. Biotin, also known as B7, assists in enzyme function in the body and helps strengthen nails and hair. Biotin is particularly important for pregnant women — any deficiency in biotin in pregnant women increases the risk of birth defects. Peanuts are also great for pregnant women because they contain folic acid which helps the development of the brain and nervous system of the baby.
Another unique health benefit of peanuts is that they can help protect against painful gallstones. Studies have shown that eating at least one serving of peanuts each week reduces a person's risk of heart disease by 25 percent. This is due to the high concentration of healthy fatty acids that prevent the production of bad cholesterol.
8. Pecans
Pecans are a savory tree nut famous for their place in pecan pies. Pecans are a reddish-brown ridged nut that is oval-shaped. Pecans are grown in the southeastern and south-central region of the U.S. as well as in Mexico. Pecans are popular in many fall and winter recipes, but are delicious every time of the year.
Nutrients per Serving
Protein: 2.6 grams
Fiber: 2.7 grams
Fat: 20.2 grams
Calories: 193
Health Benefits of Pecans
Pecans are great for weight loss as their high-fat content keeps you full. The monounsaturated fats in pecans also interact with the ghrelin hormone, which is important in weight maintenance. The ghrelin hormone stimulates your appetite, promotes fat storage and plays a large role in food consumption. By satisfying your ghrelin hormone, pecans help curb appetite and help maintain proper food intake.
For women, pecans can be great for managing symptoms of PMS such as cramps and mood swings, due to the presence of manganese and calcium. Pecans also improve heart health, reduce inflammation, reduce the risk of bone loss, improve brain function and can help with the management of diabetes. Pecans are packed with health benefits that make them even more enjoyable to eat.
Our Favorite Ways to Eat Pecans
Sweet pecans: Due to their distinct rich flavor, pecans taste great with sweet seasonings like cinnamon, honey and brown sugar. Try roasting your pecans in a saucepan with butter and spices to make your own flavored pecans.
On summer salads: Pair pecans with fresh berries and spinach for a light, but filling summer salad.
Pecan-crusted chicken: Use crushed pecans with breadcrumbs and your favorite spices to make a savory crust for baked chicken breast.
9. Pignolias
Pignolias are a small off-white nut that grows in the center of pine cones. This is why pignolias are more commonly known as "pine nuts." Pine nuts are not actually nuts, but are the seeds of the pine tree and are harvested by stripping off the pine cone husk. Pine nuts have a distinct flavor that makes them a delicious addition to any recipe.
Nutrients per serving:
Protein: 3.9 grams
Fiber: 1 gram
Fat: 19 grams
Calories: 191
Pine nuts have a high amount of fatty acids, which makes them great for improving cardiovascular health and promoting sharp brain function. They also contain plant sterols and stanols, which are known to decrease bad cholesterol and increase good cholesterol in the body. The high level of pinolenic acid in pine nuts also makes them great for curbing appetite which helps with losing weight. Pine nuts are also high in magnesium, which helps to stabilize your mood and reduce the risk of some cancers.
Our Favorite Ways to Eat Pignolias
Toss them in your sauteed spinach with garlic, salt and pepper for an added nutty flavor
Add them to pasta with lemon, sun-dried tomatoes, chicken and cheese
Use them in your favorite pesto recipe
Make sweet and rich pignolia cookies with almond paste and honey
10. Pistachios
Pistachios are a popular nut known for their green coloring and fun-to-crack shells. Pistachios taste great in ice cream, cookies and other desserts. They are also delicious plain or seasoned as the perfect snack. The smooth sweet flavor of pistachios is only complimented by their impressive health properties.
Nutrients per Serving
Protein: 6 grams
Fiber: 3 grams
Fat: 12 grams
Calories: 156
Compared to other nuts, pistachios are relatively low in calories while being high in protein. They also have a healthy protein to fat ratio of one to two. Pistachios are a delicious snack to munch on anytime without feeling weighed down.
Health Highlights of Pistachios
Pistachios are extremely rich in vitamin B6, which helps to regulate blood sugar and aid in hemoglobin production. Vitamin B6 also boosts metabolism, promotes healthy liver function and improves eye health. Pistachios are among the most vitamin B6-rich foods, so they are the perfect yummy source of this valuable vitamin.
Pistachios can also be effective for promoting gut health. Eating pistachios promotes the growth of healthy bacteria in the stomach that reduce the risk of digestive disorder, heart disease and cancer. Pistachios are also high in antioxidants, help lower bad cholesterol and produce amino acids that maintain the health of your blood vessels.
11. Soy Nuts
Soy Nuts are not actually nuts, but are roasted soybeans. Soy nuts have a nutty and crispy flavor that earns them their name.
Nutrients per Serving
Protein: 8.5 grams
Fiber: 1.8 grams
Fat: 4.7 grams
Calories: 97
Soybeans are a great source of protein and are one of the only plant proteins that provide a complete protein with all the amino acids. This makes soy nuts a great addition to a vegetarian or vegan diet, where meat is no longer a source of protein. Soy nuts also contain no cholesterol, so eating soy nuts will improve your heart health too.
Soy is also one of the best sources of isoflavones, which are a compound that helps to reduce bad cholesterol in the blood. Soy nuts are packed with valuable vitamins and minerals, such as iron, phosphorous, magnesium, zinc, potassium, vitamin K and B vitamins.
Our Favorite Ways to Eat Soy Nuts
Plain: Soy nuts pack a great crunch that makes them the perfect substitute for unhealthy processed snacks.
In protein bars: Soy nut powder adds healthy natural protein to your homemade protein bars to keep you energized.
Soy nut clusters: Indulge your sweet tooth with delectable clusters of dried fruit, honey and soy nuts.
12. Walnuts
Walnuts are a common tree nut recognizable by their ridged texture and pale brown color. Walnuts have a unique flavor and powerful crunch that makes them popular in salads, desserts and breads.
Nutrients per Serving
Protein: 4.3 grams
Fiber: 1.9 grams
Fat: 18.3 grams
Calories: 185
Health Benefits of Walnuts
Walnuts can potentially lower cholesterol. In a study of 112 people, those asked to eat 56g, or about two ounces, of walnuts daily for six months resulted in having less lipoprotein (LBL) cholesterol. Walnuts contain vitamin E, folate and anti-inflammatory properties that promote cardiovascular health. Plus they contain antioxidants — this makes them a powerful cleansing agent in the body, as antioxidants remove free radicals and help prevent damage.
Our Favorite Walnut Recipe
Walnuts have a crisp and juicy texture that goes great with a summer salad. Our cranberry walnut summer salad is light and refreshing for a summer picnic. Simply combine:
2 cups mixed greens
1/2 cup walnut pieces
1 cup dried cranberries
1 apple chopped
1/4 cup crumbled blue cheese
Top your refreshing salad with a light lemon vinaigrette made with 2 tablespoons of white balsamic vinegar, 1 tablespoon honey, 1 tablespoon of fresh lemon juice, 1/4 cup olive oil and a sprinkle of salt and pepper. Whisk your vinaigrette until smooth and pour over your salad. Mix thoroughly and then enjoy!
Nuts Are Integral to a Healthy, Balanced Lifestyle
Whether you are trying to lose weight, improve your health or simply care about eating well, try adding nuts to your diet. Nuts are an essential part of a healthy and balanced lifestyle. By using this guide, you can select the right nuts to achieve your health goals, like improved heart health, better metabolism, weight loss and much more.
At Sincerely Nuts, we offer your favorite nuts in bulk so you can stock up or order enough to make a batch of your favorite nutty recipe. Want to try out a new type of nut to improve your health? We offer small portions of nuts as well. Contact us today to learn more about all we offer.