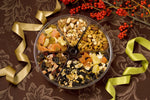 Everyone has those especially long days and stressful weeks — and when they're finally over and you stumble into bed, longing for some well-earned rest, sometimes you also experience the sudden longing for something else — a good snack. You've been rushing through the days, inhaling a cup of coffee in the morning and cramming your lunch in between meetings, tasks and to-do lists, and you realize now how hungry you are — not just for food, but to be able to stop and enjoy it while you have some time to yourself. You've got another long week ahead of you, you think to yourself. Why not take a little "you" time and enjoy some munchies?
Everyone gets those late-night cravings, and with our stressful lives and busy schedules, it's okay to indulge in them every now and then. But when you're prowling through the pantry at midnight, it's important to be sure you're making healthy selections. After all, you wouldn't want your stress-relieving snacking to become a bad habit. If you're looking for healthy midnight snacks to satisfy your hunger, we're here to help. From easy recipes to quick options you can throw together in no time, here are some seriously satisfying late-night snack ideas:
1. Fruit and Nut Tray
Give into your cravings with this healthy night snack that will satisfy your sweet tooth without wasting the calories. Sometimes nothing is better than snacking on something natural. Offset the crunch and creamy flavors of your favorite nuts with the juicy sweetness of fresh fruits like apples, orange slices, grapes and more.
If you want to skip the prep and the fruit slicing, choose delicious dried fruit for your fruit and nut tray instead. From dried pineapple, papaya and pears to strawberries, mango, apricots and so much more, the healthy options are endless.
2. Yogurt Parfait
If you're craving the sweetness and satisfaction of a bowl of ice cream without the calorie cares, a yogurt parfait is the perfect healthy late-night snack idea to substitute. Choose some vanilla Greek yogurt in your favorite brand and layer it with healthy additions like granola, berries, dried fruits and nuts. Yum!
3. Healthy Cereal and Milk
Indulge in this classic childhood satisfaction with all the sweetness and less of the sugar! When you choose heart-healthy granola in your favorite flavor and a moderate serving size, there's nothing better than enjoying each spoonful of creamy milk and crunch. Healthy doesn't get more delicious than this.
4. Tempting Trail Mix
Looking for something both healthy and sweet with a little chocolate to cheat? Don't worry — you can do it without the remorse. Whip up or choose some delicious trail mix complete with nuts, raisins, sunflower seeds, dried fruits, and a few chocolate chips or M&Ms.
Trail mix is easy to throw together yourself, but if you want to make it easy for your healthy midnight snack, buy some healthy ready-made trail mix in a variety of types and flavors.
Stay Healthy With Sincerely Nuts
When you're looking for the best ingredients for your healthy night snacks, Sincerely Nuts is here to help. With fresh, high-quality products from dried fruits and nuts to granola, original trail mixes and more, we make healthy easy and enjoyable. Order online today.