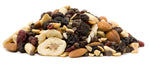 Whether you're working in the office, keeping up with the kids or recovering from a workout, everyone needs a little something to boost their energy now and then. While caffeine-packed drinks like coffee, soda, iced tea or energy drinks can offer us the temporary fix we need to power through a few hours, they're not the healthiest choices. When the energy high wears off, we often feel even more worn out than before due to a sugar crash or caffeine withdrawal.
Rather than turning to unhealthy quick fixes, the best way to get the strength you need during the day is by eating energy-boosting snacks with natural, healthy ingredients — not candy or artificial additives. Looking for some easy snacks to boost your energy in the office or anywhere else you go? Try these six healthy energy snack recipes and high-energy snack ideas to help you power through.
1. Trail Mix
If you're looking for a snack that packs a punch, trail mix is the way to go. Composed of a blend of nuts, seeds, raisins, dried fruits and sometimes chocolate, trail mixes come in multiple tasty varieties. The all-natural, heart-healthy nuts and seeds combined with delicious dried food make for an energy boost and a tasty treat for any time of day.
2. No-Bake Bites
If you don't mind a bit of prep, these little snacks are great for storing in a plastic bag or Tupperware container and taking wherever you need an extra boost. Just combine natural oats, honey, nut butter and chia seeds — and throw in some extra nuts for tasty tidbits you can munch on in exchange for some guilt-free energy.
3. Whole-Grain Granola
Whole grain is so much more nutritious than processed carbs, and it's also great for delivering the fiber and energy you need to power you through the day. Choose from a variety of delicious whole-grain granola, or find a natural granola bar to keep on-hand as your go-to energy snack.
4. Dried Fruit
Your favorite fruits are a great energy-boosting snack, but sometimes they can be difficult to bring along with you or keep fresh. When you're in the office or on the go, dried fruit is an ideal alternative to the fresh kind. Filled with all the same nutrients and flavor as the original fruits, they taste delicious and will help carry you through the day.
5. Fruity Yogurt Bites
Packed with protein, nutrients and delicious flavor, yogurt-covered berry bites are a treat you can make at home by dipping your favorite fruits in yogurt and freezing them. You can also buy them pre-made for a delicious, easy, energy-boosting snack.
6. Natural Nuts
Nothing boosts your energy like a bit of all-natural protein, and there's no better snack to deliver it than a handful of heart-healthy nuts. Full of fiber, healthy fats and nutrients, nuts like almonds and walnuts make great high-energy snacks.
Choose Your Energy-Boosting Ingredients From Sincerely Nuts
When it comes to energy-boosting snacks, Sincerely Nuts has the freshest, most natural ingredients to add to your recipes or snack on. Browse all our high-energy, tasty options today and make your purchase online.