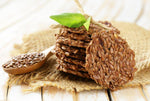 The keto diet is becoming more and more popular. When you follow it, you limit your carb and sugar intake to reach ketosis. During ketosis, your body begins breaking down proteins and fats for energy instead of carbs and sugar. The diet can help with weight loss, but you need to closely follow the rules to keep your body in ketosis.
Whether you're new to the keto diet or you've been on it for a while, finding new foods to eat for breakfast, lunch, dinner and snacks can be a challenge. To make it a little bit easier for you, here are two easy and healthy keto snack ideas.
1. Celery, Peanut Butter and Chia Seeds
You can make these ahead of time and keep them in containers in the refrigerator. Munch on them at home or bring them along with you to work. You can make these celery peanut butter stalks with chia seeds in the quantities you want, and they only take a few minutes!
Get your celery and separate the stalks. Clean the celery in cool water to remove any dirt or extra gunk. Trim off the top and the bottom of each stalk where the celery is very pale. Be sure to only cut off as little as you can so you don't waste any.
Spread about two tablespoons of peanut butter onto each stalk. Use natural peanut butter if you have it. Sprinkle your chia seeds on top of the peanut butter to give this snack an extra boost of protein.
Finally, cut your stalks of celery into smaller pieces and enjoy! Some of the best keto snacks are ones that let you double up on protein, like these peanut butter celery pieces with chia seeds!
2. Homemade Flaxseed Crackers
Flaxseeds are full of protein, fiber and lots of other vital nutrients, making them great snacks to eat on the keto diet! You could eat flaxseeds on their own, but you can also get flaxseed crackers for additional flavor. Flaxseed crackers are a tasty snack, but they can be a little expensive to buy at the store routinely. To save money and make your own blend of flavors, make homemade flaxseed crackers!
Combine a cup of flaxseeds with a half cup of water. Stir in your favorite seasonings — anything will work! Put in salt, pepper, chili powder, rosemary, garlic powder, onion powder or any other spice combination. Whether you want something simple or a lot of heat, one of the best things about this snack is that you can customize the crackers to your tastes.
Put the mixture into the refrigerator and leave it there for at least two hours. During that time, the flax seeds will absorb the water. After you take the mixture out of the fridge, be sure to mix it again to get the seasoning evenly distributed again.
Take a rimmed baking sheet and line it with parchment paper. Cover the mixture with another piece of parchment paper. Using a spoon, spread it evenly over the baking sheet. The thinner you spread the mixture, the crispier the crackers will be.
Bake the crackers at 275°F for about an hour, or until all of the moisture is gone. When they're done, break apart the crackers into smaller pieces, and you're done!
Buy Keto-Friendly Snacks at Sincerely Nuts
Nuts and seeds are all popular snacks for the keto diet. At Sincerely Nuts, you can buy these tasty snacks in the quantities that you need, whether you're going to munch on them by themselves or use them in recipes like the ones above! Check out our inventory of nuts and seeds today to get your healthy keto snacking on.