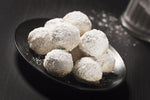 The holidays are a time to spend time with friends and family, exchange thoughtful gifts and indulge in some amazing food! From feasts on Christmas Day to amazing spreads at holiday parties, some of our favorite holiday memories are centered around food.
For many families, baking cookies is a fun holiday tradition, no matter what holiday you celebrate in the winter. Whether you're looking for something to put out at your annual holiday get-together or need something to bring to a cookie exchange, snowball cookies are the perfect pick!
Also called Russian teacakes and Mexican Wedding cookies, snowball cookies' origin isn't known exactly. Traditionally, these are a simple type of shortbread cookie with finely chopped nuts, especially pecans. Today, people in the United States mainly eat them during the Christmas season and at weddings.
A great thing about this cookie is that they're delicious just as a simple cookie, but with a few tweaks to your recipe, you can create some delicious variations on the classic. Below you'll find a traditional snowball cookie recipe that will be followed by some ways that you can easily change up the recipe.
Snowball Christmas Cookie Recipe
Yields: About four dozen cookies
Total Time: About two hours
Ingredients:
2 sticks unsalted softened butter
1/4 cup sugar
1 1/2 teaspoons vanilla extract
2 cups of flour
2 cups pecans, toasted and finely chopped
Confectioners' sugar
Directions:
Preheat your oven to 325°F.
In a medium mixing bowl, beat the butter with a hand mixer on medium speed until creamy. Slowly add the vanilla extract and sugar. Beat again until fully incorporated.
Add the flour and pecans to the bowl and beat on the hand mixer's lowest speed until dough forms and there is no visible flour. You may need to turn off the mixer intermittently and scrape flour from the sides of the bowl to make sure it all mixes in.
Make the dough into 1-inch balls, then space them 1-inch apart on an ungreased baking sheet.
Bake the cookies for 15 to 18 minutes or until they turn a very light brown. Let them cool for five minutes.
When the cookies are still warm, roll them in a container with the confectioners' sugar to evenly coat the cookies.
Store the cookies in an airtight container with more confectioners' sugar in it.
Variations
These simple, easy-to-make cookies are fantastic as they are. But, if you want to try out new things or like experimenting more in the kitchen, try out some of these variations on this classic recipe:
Different Nuts: Pecans are the traditional nut to add to snowball cookies, but you can switch them out for walnuts, almonds or any of your other favorite nuts. Just be sure to chop them up finely, so they blend well in the dough.
Chocolate-Dipped: No matter what type of nuts you add, throwing in some chocolate can really amp up these cookies! Once the cookies have cooled completely, dunk them in some melted chocolate to give them a decadent taste.
Chocolate Chips: If you're allergic to nuts, you can add some chocolate chips instead! If you're going to add chocolate chips to the cookies instead of nuts, add 1 teaspoon to the dough instead of 1 1/2 teaspoons to keep it from becoming too sweet.
This holiday season, make spending time with your loved ones a little sweeter. Whip up the best snowball cookies by following our recipe!