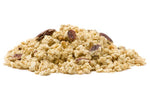 Many people with New Years Resolutions or other healthy goals will grab a bag of granola at the grocery store. It's widely regarded as a low-calorie, hearty snack, but is granola actually that healthy for you?
Packed with whole grains, fiber and healthy fats, many types of granola offer unbeatable benefits. But among those healthy heroes you'll find a few granola imposters that boast benefits but are actually hiding excess sugars, oils and fats. Before buying a fresh bag of granola, study up on the difference between a healthy granola and an unhealthy one.
Is Eating Granola Healthy?
In short: it depends what it's made of!
Granola refers to a wide selection of products and doesn't feature a defined list of ingredients. But most granola contains whole oats, nuts or seeds and often dried fruit. These foods are an excellent source of fiber, healthy fats, proteins and potassium. They're also high in carbohydrates, which is good for active people who need extra fuel to push through the day.
These healthier ingredients will often hide high-calorie counts, nonessential oils and scoops of sugar that detract from the overall health benefits of granola. Before you buy a granola, look at its:
Sugar levels: While most consumers are programmed to look for high fructose corn syrup, it's important to remember sugar goes by many names. Some include alternatives like molasses, brown rice syrup, oat syrup solids and evaporated cane juice. Make sure to keep your sugar intake at eight grams per serving or less.
Serving sizes: Granola is a tasty snack and it's easy to eat half a bag in one sitting. But granola is best enjoyed in small sizes. Most granola serving sizes are 1/3 of a cup. Granola products containing healthier ingredients typically have less than 270 calories per serving. To best manage your granola serving sizes, mix it into yogurt or oatmeal so it feels more filling.
Fat percentages: Nuts are typically considered a healthy snack if eaten in moderation. Seeds and nuts have healthy unsaturated fats and omega-3s, but make sure to manage your fat intake at no more than two or three grams per 1/4 cup serving.
Oil sources: Granolas are often bound together using sugary syrups and oils, but some oils are better than others. Avoid granolas containing palm oil or hydrogenated oils, and instead aim for products with coconut oil or extra-virgin olive oil in their ingredients lists.
Filler ingredients: Whenever you read an ingredients label, it's better to be able to quickly identify short, simple ingredients versus a long list of items you can't pronounce. Stay clear of insulin — a soluble fiber that can lead to digestive issues — soy protein isolate and other less healthy filler ingredients.
Health Benefits of Granola
Granola contains a wide variety of ingredients with high levels of healthy fats, oils and minerals that are vital to your everyday health. The ingredients in granola can:
Promote better digestive health
Manage heart disease, cholesterol and blood pressure
Maintain heart, nervous system and skin health
Encourage healthy immune systems, bone growth, nerve function and cell growth
Stock Up On Good Granola Today
At Sincerely Nuts, we want to encourage healthy lifestyles while making sure you have access to delicious food options. With our selection of granola you can feel better on a day-to-day basis and have a tasty snack you won't want to put away.
Check out our selection of healthy granolas today and enjoy free shipping on all orders $60 or more.