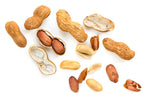 Whether you like them salted, sweet, slightly toasted, raw or at the ballpark on a summer afternoon, nuts are a delicious and nutritious snack anytime. Nuts in their simplest forms — raw and toasted — offer a variety of fiber, protein and healthy fats to keep you active and healthy.
But there's a growing divide in the nut munching community — should you eat them raw or have them toasted? Are raw or roasted nuts better for you? While roasting nuts improves the flavor, aroma, texture and crunch, many believe this added toasting process could affect the overall nutritional benefits of the nut.
The Purpose of Roasting Nuts
Roasting nuts enhances flavor, creating a dynamic snacking experience. Most experts believe roasting nuts doesn't alter the structure of the nut or its nutritional benefits. Roasting cooks the nut evenly with a dry heat. Most nuts are roasted without shells using either a dry roasting or oil roasting method — the exception being pistachios. Roasting is also one of the most common and easiest ways to remove the shell from cashews and other nut types.
Along with making certain nuts like pistachios, almonds, pecans and cashews easier to eat, roasting offers an unexpected benefit — it can alter the way your body digests them. Experts found that a roasted almond is easier for your body to digest compared to a raw almond. Roasted nuts are digested much more effectively, satisfying your hunger more quickly than raw nuts.
Nutritional Differences Between Raw and Roasted Nuts
Although prepared differently, there are very few nutritional differences found between raw and roasted nuts. Dry-roasted and raw nuts contain comparable levels of carbs, fat and protein. However, roasted nuts have higher caloric value and more fat. For a better idea, check out the nutritional information for several popular nut types:
Pecans: One ounce of raw pecans has 193 calories with 14 grams of fat, while an identical serving of roasted pecans contains 199 calories and 21 grams of fat.
Almonds: One ounce of raw almonds has 161 calories and 14 grams of fat, and dry-roasted almonds have 167 calories and 15 grams of fat.
Cashews: One ounce of raw cashews contains 157 calories and 12 grams of fat, whereas dry-roasted nuts have 163 calories and 13 grams of fat.
The cause of this slight nutritional variance is the roasting process, where the nuts lose moisture and mass.
The Potential Dangers of Raw Nuts
When deciding whether you prefer raw vs. roasted nuts, one thing to consider is the potential dangers of raw foods. While both roasted and raw nuts have similar nutritional values and help minimize heart disease, raw nuts do present a significant potential health concern. Raw nuts like almonds and pistachios have been reported as carrying salmonella. Dry or oil roasting nuts is known to reduce the risk of contamination from salmonella and other harmful bacteria.
Feeling a Bit Nutty? Order Premium Raw and Roasted Nuts From Sincerely Nuts
At Sincerely Nuts, we can't deny that one of our favorite snacks is the nut and that's why we carry the widest selection of roasted, raw, sweet and savory nuts. No matter what type of nut you're craving, we guarantee to have a choice that will satisfy your hunger. Check out our huge variety of nuts including peanuts, cashews, almonds, Brazil nuts, macadamia nuts and more.
Nuts are available in small and large amounts at an incredibly affordable price. We even offer free shipping on all orders of $60 or more.