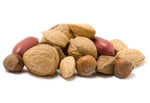 Eating a balanced variety of foods is key to keeping you happy and healthy, so it's essential to be mindful about what you eat every day.
Nuts are a great addition to your diet because they provide excellent health benefits, and you can eat them at any time of day. Whether it's a quick snack mid-morning or a delicious topping for your main course for dinner, nuts are a versatile and healthy food.
Why Should You Eat Nuts Every Day?
There are a number of different reasons to eat nuts every day, and here are a few:
1. Nutritious
Nuts are full of important nutrients, like protein, fiber, healthy fats and antioxidants. When you're feeling sluggish, they're a great way to get some protein and perk up without sugar or caffeine.
2. Ideal for Snacks on the Go
Lots of people are choosing to eat more nuts because of their health benefits and because they are perfect for when you get hungry when you're out and about. You can pack them in a zip-top bag and take them with you anywhere.
3. Add Them to a Variety of Recipes
With so many different types of nuts out there to choose from, you can also use them in a variety of different dishes. Use peanuts for homemade pad thai, or add sliced almonds to a morning yogurt parfait. The possibilities are virtually endless for how you can eat nuts throughout the day.
How Many Nuts Should You Eat Per Day?
Different nuts have different nutrients, so you will need to adjust the quantities you eat depending on the type. These are some popular nuts to add to your daily diet and how many of them you should eat per day:
Peanuts: 8 to 10
Walnuts: 1 to 2
Almonds: 8 to 10
Pistachios: 5 to 7
Cashews: 4 to 5
While nuts have a lot of health benefits, it is possible to eat too many of them. All nuts are high in fiber, and if you're not used to it, extra fiber can cause bloating and other digestive issues.
Types of Nuts to Eat Every Day
With so many different types of nuts out there, you're sure to find a variety you love eating every day:
Shop Your Favorites Online
You'll find all of these nuts and many more at Sincerely Nuts. When you shop with us, you'll get great prices on all your favorites and free shipping on orders of more than $60.