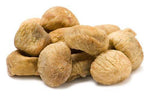 We've all heard the famous carol "We Wish You a Merry Christmas" around the holidays. Whether a local radio station plays it or your favorite store plays it, you can probably sing along to most of the words!
If you've heard this carol, you can probably recognize the line that starts like this, too — "Oh bring us some figgy pudding." And like lots of others, you probably wonder what figgy pudding is when you listen to this line!
We're here to answer this question! Below, we'll talk about what figgy pudding actually is and give you some recipes if you want to make it yourself this holiday season!
What Is Figgy Pudding?
Figgy pudding is a traditional dessert served in Great Britain during Christmas. It's also known as plum pudding or Christmas pudding. For most British families, Christmas dinner isn't complete without figgy pudding on the table!
In Britain, pudding isn't what Americans think of. Pudding can generically mean a dessert, or it can refer to a specific dish. For example, puddings can be sweet cake dishes or even savory ones. Pudding in Great Britain isn't the creamy dessert as we think of it in the United States.
The name figgy pudding can be a bit misleading, too. Figgy puddings don't always contain any plums or figs. Traditionally, the British used the word "plum" to describe any type of dried fruit but was most commonly used for raisins. A figgy pudding is a steamed cake.
Figgy pudding has some Christian symbolism. Traditional recipes use 13 ingredients as a nod to Jesus and his 12 apostles. The dessert is also topped with some brandy and lit on fire, representing the passion of Christ.
Figgy Pudding Recipes and Ingredients
You can make figgy pudding in many ways — it doesn't have to be a traditional recipe! Figgy puddings can use lots of great ingredients, including currants, raisins, figs, nuts and lots of other tasty things.
Figgy pudding recipes are easy to follow. You have a few extra steps aside from just mixing everything into one bowl, pouring it into the pan and baking, but the extra effort is worth it!
Bake your figgy pudding in a round bundt pan. When you slide it out of the pan and serve it at your own Christmas dinner, it will give your table a wonderfully festive dessert the family can look forward to while they eat the main course.
If you love trying new things in the kitchen, a figgy pudding is a must-try! When you listen to the carol "We Wish You a Merry Christmas," you'll remember how delicious this dessert is and be inspired to make it again! Serving it at a holiday party or this year's Christmas dinner is sure to be a big hit!
If you're looking for dried figs and other dried fruits to use in your figgy pudding, Sincerely Nuts has everything you'll need! You can order the quantity you need for all your holiday baking.