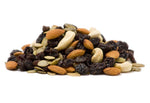 For those who eat Kosher, finding easy-to-make, healthy snacks can prove difficult. But with our Kosher snack ideas, you can enjoy great food with recipes that come together in no time. Try these four ideas, made with just a few of the many Kosher foods we sell.
1. Kosher Trail Mix
Trail mix may just be the perfect snack. You can vary the ingredients according to your mood. Craving something savory? Go heavy on the salted peanuts and pretzels. Want something sweeter? Load up on fruit chews and chocolate chips. We've come up with recipes for two different trail mixes and more to match your mood, all made with Kosher ingredients you can trust.
Sweet Kosher Trail Mix
Ingredients:
Directions: Combine all ingredients in a bowl and mix well. Store in an air-tight container.
Savory Kosher Trail Mix
Ingredients:
Directions: Combine all ingredients in a bowl and mix well. Eat right away or store for later consumption.
Both trail mixes make an excellent treat to bring along on a hike or to keep in your desk at work for when you need a pick-me-up.
2. Kosher Granola Bars
Keep these on hand for when you need a quick energy hit. Serve them to kids before sports practices or games.
Ingredients:
Directions: Dry-saute the oats and sunflower seeds in a pan for 5-10 minutes, until they become fragrant. Remove from heat. Add sugar, honey, vanilla and butter to a saucepan and cook over medium heat until well mixed. Preheat the oven to 300 degrees F. Add remaining ingredients, along with oats and sunflower seeds, to a bowl and mix well. Pour the sugar mix over the dry ingredients. Mix until well-combined.
Spread evenly into a greased 8x8 pan. Bake for 25 minutes, then cut into bars when cooled.
3. Wonderful Walnut Hummus
This is a traditional Israeli breakfast food. Spread it on toast for a tasty treat.
Ingredients:
Directions: Chop the walnuts in a food processor, getting them almost smooth. Add chickpeas, garlic, a TBSP of oil and lemon juice, then pulse. Slowly pour in the water and the rest of the oil, pureeing. Remove from food processor and stir in the paprika. Store in the refrigerator.
Stock up on Supplies for Your Kosher Snack Recipes
Get the ingredients you need for these healthy Kosher snack ideas from Sincerely Nuts. Keep in mind, when you buy more than $60 of merchandise from us, you get free shipping.