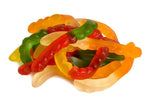 Whether you have a plethora of treats left over from Halloween activities or your family just loves to indulge in classic Halloween candy, making recipes using your bounty can help use it up quickly. Of course, you also get a fun family activity when you whip up such goodies. Try making these three trick or treat candy ideas with your little ghosts and goblins.
1. Chocolate Pudding Dirt
Put a new twist on an old favorite that incorporates pudding, cookies and candy. You may want to serve this treat for an after-school pick-me-up.
Ingredients:
Instant chocolate pudding, prepared ahead of time
Cup of crushed chocolate sandwich cookies
Directions: Divide the crushed cookies evenly into four glass mason jars. Spoon chocolate pudding on top of each one, then bury 3 or 4 gummy worms in the pudding. For a finishing touch, arrange the candy corn to look like a face, with eyes, nose and a big toothy grin.
2. Candy Cake
Bake your cake and eat it, too, with a side of candy for a good measure. This takes only a little bit of extra work for a dessert your family will request again and again.
Ingredients:
One box of chocolate or vanilla cake mix, prepared as directed
One container of orange icing
Directions: Ice the cake. Cut Twizzlers so they are as tall as the side of the cake. Apply Twizzlers to the outside of the cake, so the bottom of the Twizzler starts at the base of the cake and rises to the top of the cake. Press each Twizzler into the icing, until the entire cake has been covered. It will look very Halloween-ish with the dark candy and orange icing.
Put a ring of malted milk balls around the top of the cake, again patting them into the icing until they stay. Then fill in the top with fruit slices, making whatever pattern you like with the different colors.
3. Eyeball Brownies
There's nothing creepier than a treat staring at you from your plate.
Ingredients:
One box of brownie mix, prepared as directed
One can of white icing
Orange and black sprinkles
Directions: Frost the tops of the brownies with white icing, reserving a bit for later use. Add two white non-pareils to the top of each brownie, pushing slightly into the icing to stick. Sprinkle the rest of the brownies with the orange and black sprinkles, being careful not to cover the non-pareils. Add a small dot of icing to the middle of each non-pareil. Place an M&M on top of each dot, so it looks like an eye. You can mix and match the colors of the eyes on each brownie or make them different colors to get an even spookier look.
Enjoy the Best Halloween Candy Ideas
Stock up with Sincerely Nuts to indulge in your favorite Halloween candy ideas from our list. Whether you prefer chocolatey or fruity treats, you can find what you want from us. Remember, you get free shipping on orders of more than $60, too.