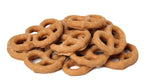 Are you hitting the road for your next vacation? There's nothing quite as fun as a road trip, whether you're heading on a quick jaunt to visit family in a neighboring state or taking off on a cross-country adventure. When you plan your road trip, you need to make sure you have all the things that will make it a success — a great playlist, fun car games, pillows galore and, of course, the best road trip snacks that will keep you well-fueled for miles.
We've compiled this list of the best healthy road trip snacks to assist you with your planning. These snacks all travel well and provide excellent nutrition. The last thing you want on your trip is blood sugar highs and accompanying crashes that leave everyone grumpy. When you use these road trip snack ideas, you will feel satisfied and hungry for a meal a few hours later.
1. Trail Mix
Trail mix may be the easiest snack to pull together for a road trip. Stored in an airtight bag, it can stay fresh for the duration of any road trip. The key to building a great trail mix is to combine ingredients that have differing yet complementary tastes. Aim for a sweet-savory-salty mix. A few of our go-to ideas include:
You can also buy premade trail mix from Sincerely Nuts if you prefer to save a little time putting the ingredients together. We have options such as hiker's trail mix and energy mix.
2. Flavored Nuts
Nuts make a fantastic snack. They provide healthy fats, protein and sustainable energy. Your entire crew will stay full for hours after snacking on our nuts. Also, you can choose already-shelled varieties to cut down on the mess in the car, though pistachio shells generally cause little mess.
Any type of nut makes an exceptional snack, from walnuts to pecans to almonds. You can also try flavored nuts for a unique twist on an old favorite. Our flavored nut choices include:
3. Dried Fruit
For a fiber-filled snack that will satisfy everyone's sweet tooth, pack some dried fruit. You can find a fantastic variety, which means even if your kids like all different types of flavors, you can keep everyone happy. Raisins are generally a safe choice for everyone, but you can experiment with more exotic fruit, too. You may find something the whole family adores. Try mangos, papaya, peaches, and even jackfruit.
Buy Your Healthy Travel Snacks From Sincerely Nuts
Make sure you have the best possible road trip by planning ahead and getting all the snacks you need from Sincerely Nuts. When you buy more than $60 in merchandise, we give you free shipping, which will help that road trip budget. Healthy and tasty snacks will make your drive go that much faster.