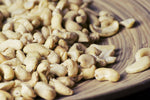 When you think of cashews, you may think snacktime — who doesn't love scooping these meaty treats right out of the bag for a mid-afternoon pick-me-up? But, if you have limited your consumption of cashews to snacking, then you are missing out.
With their distinctive taste and unique ability to mimic the flavor of certain cheeses after a good soaking, cashews may be one of the most versatile ingredients in your pantry. Enjoy these four easy cashew recipes using many other ingredients you have on hand.
1. Cashew "Cheese"
This vegan substitute for traditional Parmesan will taste delicious on top of spaghetti or even spread on a piece of toast. Soak cashews in water overnight, then stick them in the food processor along with a quarter teaspoon apiece of onion and garlic powders, a quarter cup of nutritional yeast and a half teaspoon of salt. Blend until smooth. You can keep the cheese in the refrigerator for up to two months without spoiling.
2. Cashew Butter Recipe
No list of roasted cashew recipes would be complete without a nut butter entry. Nut butter can be as dense or light as you prefer, depending what you add to it. Your base ingredient is  roasted cashews, as the roasting gives the butter an even richer flavor. Toss a cup of them into a food processor and blend until smooth.
Next comes the fun — the add-ins. Many people love dessert-style nut butter. For a sweeter treat, you can stir in any combinations of the following:
Maple syrup
Honey
Raisins
Cinnamon
Coconut
Cocoa nibs
3. Cashew Chicken Stir Fry
Cashew chicken is a classic meal. Some people worry this dish will be too complicated to make for a beginner, but it's actually quite easy. Mix together soy sauce and pinches of garlic powder, ginger and sugar with a dash of sherry. Add thinly sliced chicken breasts and marinate for at least 20 minutes in the refrigerator. Stir-fry the chicken over medium heat, adding fresh vegetables of your choice. Sprinkle a half-teaspoon of cornstarch over the mixture and stir until blended. Sprinkle with crushed cashews, mixing well before serving.
4. Cashew Coffee Smoothie
Want a cashew recipe that's a real eye-opener? You will get a substantial jolt from our cashew and coffee morning treat. In a blender, combine a half-cup of cold coffee, one frozen banana, a quarter cup of cashews, a squirt of honey and a pinch a piece of salt and ground cardamom. If you like chocolate, you can also pour in a tablespoon of cocoa powder, unsweetened. Blend together and taste. If the smoothie is too bitter, add a little more honey and blend again.
You can also vary this by mixing in other types of fruit. Try a kiwi, orange or strawberries for a different taste.
Buy Our Cashews to Make These Recipes
Are you ready to earn your culinary stripes in cashew cooking? Buy in bulk from Sincerely Nuts to stock up your pantry. When you place an order for more than $60, you receive free shipping. Choose from  cashew pieces, unsalted cashews and more. Place your order today, or contact us with any questions you have.