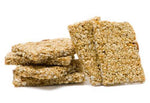 It's that time of year again — books are loaded into backpacks, binders are ready, school shopping is complete, and the kids are gearing up for their first day.
It's back-to-school season, and you know what that means. With extended hours in the classroom, your kids are sure to get especially hungry during school, so prepping for packed lunches and including the right kinds of snacks is essential for keeping them powered through the day.
When you want to give your kids just the right amount of energy and nutrition to help them learn and thrive in the classroom, healthy school snacks are essential. Not only do they keep youngsters satisfied, but the right school snacks for kids enhance concentration and boost in-school performance.
Not sure what to pack? Here's a list of our 10 favorite healthy back-to-school snacks.
Packed with protein and potential, these crunchy, savory, all-natural snacks are full of vitamins and minerals — and they taste delicious. Your kids will love these little legumes to munch on at lunchtime.
With the sweet taste of candy but the nutritional qualities of fresh fruit, dried fruit is a delicious, healthy school snack for kids. With so many options from apricots, apples and banana to plums, peaches, papayas and mangos, you can choose your kids' favorite fruits and introduce them to new varieties.
With so many flavors and all-natural varieties to choose from, granola makes a great go-to healthy school snack for kids. The oats in granola bars are strong in iron and fiber.
Available in a wide range of flavors and ingredients to suit your kids' tastes, this traditional nut, seed, chocolate, fruit and raisin blend offers plenty of nutrients and just a little touch of tempting sweetness.
If you have kids that love to munch, swap out those greasy potato chips for healthier, tastier veggie versions. From dried carrots to green beans to sweet potatoes, veggie chips offer a full range of flavor and crunch without all the fat.
Give your kids their daily dose of protein by packing their lunches with a serving of some heart-healthy, delicious nuts. Choose from peanuts, cashews, almonds, pecans and much more.
Like granola bars, these handheld snacks are easy to transport and fun to munch on. Choose from almond and peanut brittle, sesame and sunflower seed brittle, cashew crunch brittle and other healthy varieties to quell your kids' cravings.
A healthier alternative to pretzel sticks, these crunchy snacks come in many flavors.
Just like nuts, natural seeds make a healthy, nutrient-packed snack for kids during the school day. Choose from sunflower seeds, pumpkin seeds and more.
The perfect balance of sweet, tart and tempting, yogurt-covered berries are a great healthy school snack to buy because they're fruit that looks and tastes more like candy. Pack a snack bag or a small container for your kids to pop when they get peckish.
Healthy Back-to-School Snacks From Sincerely Nuts
When it comes to packing your kids' lunches with nutritious, delicious options, we have everything you need to make your healthy school snacks stand out. Order online today.