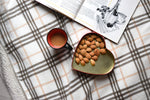 Valentine's Day is rolling around again, and with it comes the pressure of picking the perfect gift for the person who matters most. Treating your special someone to a romantic dinner or presenting them with that same old candy heart might still be sweet, but this year, maybe you're looking for Valentine's Day gift ideas that are surprising, satisfying and new. Choosing something different doesn't have to be complicated — in fact, it can be as simple and sincere as snacks and sampler trays. If you've got a sweetheart with a sweet tooth, here are some Valentine's Day gift ideas to stand out.
High-Quality, Original Candy Selections
Does your loved one relish all things sweet, sugary, chewy and colorful? If you're looking for the perfect candy to make his or her Valentine's Day mushy, Sincerely Nuts has the perfect selection of tempting, tasty treats to choose from:
Bring back childhood memories with traditional confections like gummies, jelly beans and bubble gum
Make it sassy with some sucking candies
Indulge the sweetest temptations with popular candy varieties, all shipped straight to your door for the special day
Dark Chocolate Delights
Most women crave nothing more than quality chocolate, and men can have quite the sweet tooth for the rich flavor themselves. If your sweetheart is crazy about chocolate, you won't find anything better to satisfy their desire than our daring dark chocolate candy collection. Express the deep, sensual side of your love with the luscious gift of smooth, tantalizing treats. Try our irresistible dark chocolate break-ups, our tempting dark chocolate pretzels or our delicious dark chocolate cookie bites to quench every craving.
Milk Chocolate Temptations
If smooth and sweet is more up to speed with your significant other's style, our milk chocolate sweet varieties are just the scrumptious addition you need this Valentine's Day. Make a gift of our milk chocolate almonds for a creamy, mild mouthful or give a pack of milk chocolate pretzels for a sweet and salty snack. Chocolate this sweet will melt your lover's heart.
Individualized, Edible Gift Trays
Does your special someone enjoy variety, surprise and trying new things? You can opt for a sampler of the same chocolate truffles any time, but give the gift of something unexpected this Valentine's Day by choosing from our selection of original gift trays. For nut-lovers, opt for our awesome almond lovers gift tray or our sweet candied nuts tray. To satisfy a sweet tooth, try our dark chocolate variety mix, and for the more health-conscious, choose from a variety of mixed fruit gift trays.
Healthy Nut Varieties
If your sweetie would rather stay healthy and avoid the sugary temptations this Valentine's Day, try giving them a satisfying snack as a gift instead. From peanuts, pistachios and pecans to corn nuts and cashews, we carry a wide variety of nuts with all kinds of roasts and coatings.
Make it Sweet With Sincerely Nuts
Shower your sweetheart with the best Valentine's Day gifts this year when you shop with Sincerely Nuts online. Purchase the perfect presents to impress them today.