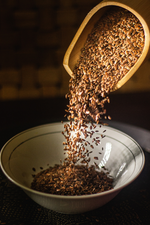 As the world turns more towards a plant-based lifestyle, it can be tricky to find an egg replacer that satisfies the whole family's diet preferences. There are a few ways around that. And a flax egg is one that is super easy to try.
Brown flaxseed has a delicious nutty taste and a healthy serving of nutrients. Flaxseed is one of the first superfoods cultivated by man, with evidence taking it as far back as 3000 B.C. The meaning of the term flaxseed is even referred to as "very useful."
Even though it has become popular in the last decade, ancient civilizations enjoyed its health-boosting properties thousands of years ago. But one thing is for sure: the hype behind these seeds is completely justified.
Flax seeds provide so much nutrition including antioxidants, and minerals like zinc, iron, manganese, selenium, calcium, and more. This makes them an excellent food for bone, skin, and heart health.
Check out the quick recipe and health benefits below to swap out your eggs occasionally, for an extra dose of nutrition.
Flax Egg:
Prep time: 2 minutes
Makes: 1 egg
Ingredients:
Directions:
Add both ingredients and stir. The, set aside for 3-5 minutes. Add to recipes in place of 1 egg. When it thickens, you're good to go, and it is that simple!

While this is not an exact substation in all baking recipes, it comes extremely close. It does not take on the exact same consistency as an egg, but it does the job. However, it does work well in baked goods like cookies, muffins, bread, and even pancakes.

If you want to add more flaxseed to your diet, but would rather not taste it so much, a flaxseed egg may be your next go-to for baked goods. You can also add flaxseed to your smoothies for some added nutrition without tasting it!