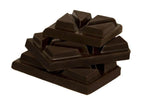 Many people think you can't eat healthily and indulge in your sweet tooth too. But, we're here to tell you that you can! As long as you keep an eye on how much you eat, chocolate lovers can enjoy plenty of snacks while still keeping their health in check.
When you're looking for some chocolate treats that are still healthy, check out four snack ideas below!
1. Homemade Dark Chocolate Snacks
Dark chocolate has more health benefits than milk or white chocolate. Since less sugar is added to dark chocolate, using it in your snacks creates that amazing chocolate flavor without a lot of extra sugar, fat and calories.
Make homemade dark chocolates by following the recipe from Our Four Forks. They have a great base recipe that literally asks for customization. And once you make these chocolates a few times, you can experiment more with it!
Add different toppings to the chocolates, like dried fruit, nuts or seeds. Chopped almonds or walnuts, dried cranberries and pumpkin seeds all make tasty additions to your dark chocolate snacks.
2. Chocolatey Yogurt Parfaits
Women's Health has many great suggestions, and one of our favorites was for a chocolatey yogurt parfait. Mix a teaspoon of cocoa powder — either milk chocolate or dark chocolate cocoa — into some Greek yogurt. You can then add other foods, like honey, berries or whatever else you think would taste good!
You can also throw all of these same ingredients into your blender and make a smoothie! With the cocoa powder in there, it will taste like a milkshake but have the health-boosting characteristics of our other chocolate snacks.
3. Apple "Nachos" With Peanut Butter Chocolate Sauce
These apple "nachos" have a similar crunch to regular nachos but are much healthier than chips and queso! We took inspiration from Nutrition Stripped but swapped out a few things.
Core one to three apples and cut them into thin rounds. Now, instead of topping with the raw caramel sauce, make a peanut butter and chocolate sauce. Melt some peanut butter and dark chocolate in the microwave, and add some milk or honey if you want it to be a little bit sweeter. When the chocolate peanut butter sauce is melted, drizzle it over the apples and munch away.
4. Amped Up Chia Seed Pudding
Chia seed putting is easy to make and has lots of health benefits, but it can be a little bland on its own. Kale Me Maybe had the great idea of adding some new flavors to entice those with a sweet tooth to try it, too!
You need more ingredients to make this Layered Mocha and Vanilla Chia Seed Pudding, but it's definitely worth it. With the layers of mocha and vanilla, the pudding has a sweet and almost tangy taste from the espresso. When the pudding is done, it will prove to be a filling snack as well as tasting amazing.
When you're looking for quality ingredients to make these recipes, be sure to shop at Sincerely Nuts. We've got a great selection of other chocolate snacks that anyone with a sweet tooth is sure to love!