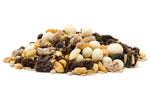 When it's time to celebrate a special occasion in your kid's classrooms, it's easy to pick up some pre-made desserts at the bakery in your local grocery store. But, you don't have to bring sweets to make the kids feel like they're getting a treat!
These healthy snacks make a much better choice when you're looking for a tasty snack to bring to a party in your kids' classrooms. Whether it's their birthday, it's a holiday party or any other special day.
1. Parfaits
You can get really creative, or let the kids get creative themselves, by making some delicious fruit and yogurt parfaits! You can make them ahead of time or even set up a parfait bar in the classroom. Choose a few different types of yogurt, cut up some fresh fruit and find some yummy toppings. Granola, dried fruit, chocolate chips, crushed cookies and nuts — if you're able to bring them into the classroom — all make wonderful toppings for these parfaits.
The kids will love making their own unique snack and feel like they're eating a real treat! But, it's a healthy snack that will keep them going through the rest of the school day.
2. Double Chocolate Zucchini Cake
This treat is the perfect way to totally hide a serving of veggies from the kids! The cake includes a lot of zucchini, but you can't tell it's there!
First, make chocolate cake mix as you normally would. Use dark chocolate cocoa powder instead of milk chocolate cocoa powder to make it a little richer. Add in some semi-sweet chocolate chips and finely shred a small zucchini into the batter, too. Bake it in a bundt pan, and you don't even need to frost it. When you eat this amazing cake, you can't taste the zucchini at all — you'll just taste chocolate! The kids will love this cake, and they won't even know they're getting a small serving of veggies, too.
3. Trail Mix Apple Slices
Another recipe that's easy to make and tastes delicious, make some trail mix apple slices for your kids' classroom party. With just a few steps, you'll have a tasty snack that's healthy and sweet enough for the kids to enjoy, too.
Core your apples and cut them into slices. Spread some peanut butter on each slice, or use an alternative like coconut butter or tahini if any kids in the class have nut allergies. Then, cover the apples with toppings that you'd find in trail mix — mini M&M's, dried fruit, granola and more. With a great variety of flavors and textures, the kids will love eating these fun treats.
4. Fruit Muffins
A healthier alternative to cupcakes that still taste amazing, you can't go wrong with baking some homemade muffins! Choose a recipe that uses fresh fruit that's in-season in your area, like apples, blueberries or strawberries. Finding a recipe that uses more than one type of fruit is a great pick, too!
You can always sweeten up your muffins by adding a crumb topping or some cinnamon sugar. You can even play around with baking different sized muffins — mini muffins, standard sizes and even jumbo! Cut up the bigger sizes and bake a few varieties so the kids can try out different flavors.
When you're baking healthy snacks for your kids' classes at school, you want to use the best ingredients. At Sincerely Nuts, we have an excellent variety of nuts, dried fruit, seeds and other snacks that will make any of these snacks a delicious treat. Order yours today and get free shopping when you spend $60 or more!