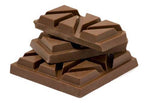 When it comes to baking delicious treats like cookies, cakes, brownies and other delectable goodies, we all know there's nothing better than chocolate. Chocolate chips, chocolate batters, chocolate icing and chocolate filling — what could be more tempting? But when you're cooking up the most scrumptious cupcakes and chocolate delights, you want to make sure you're using the right ingredients to make your creations tasty, rich and just the right amount of gooey. Are all chocolates created equal? What's the best kind of chocolate to choose for which desserts? From chocolate baking ideas to picking the best baking chocolate for your special kind of sweets, here's how to use chocolate in the kitchen.
As chocolate liquor that retains a high amount of cacao with added butter, sugar and flavorings for sweetness, dark chocolate contains no milk solids and has several varieties of darkness and sweetness. The higher the percentage of the cacao, the less sweet the chocolate will be, and the less sweet the chocolate, the better for baking it is. Dark chocolates like semisweet and bittersweet are good for putting in cookies, making ganaches and incorporating into icings and glazes for cakes.
Unlike dark chocolate, milk chocolate — as its name suggests — does incorporate dairy into the mix. Containing milk solids, sugar and cocoa butter, this type of chocolate is especially sweet and melty, making it perfect for no-bake desserts like s'mores. It's also ideal for incorporating into creamy chocolate sauces and chocolate caramels, using as a melted flavoring in filling or icing or topping treats that have already been baked — sprinkle them in shavings or chips on top for a delicious finish!
White Chocolate
Unlike milk chocolate and dark chocolate, white chocolate is technically not chocolate at all. It contains no cocoa solids, which is what lets it maintain its white color. Made up of milk solids, cocoa butter and sugar, it is the sweetest of all three chocolate varieties, which makes it fantastic for special treats. You can incorporate white chocolate into baked goods to give them a special flavor — just remember, you won't need to use as much sugar when you have this sweet ingredient!
White chocolate also works wonderfully in icings, candy coatings and ganaches. Just make sure you don't mistake this sweet "chocolate" for a baking chocolate substitute, as it has a different composition and will not melt the same way or taste the same in the treat.
Choose Chocolates From Sincerely Nuts
Do you enjoy dark chocolate, white chocolate or milk chocolate when it comes to your cookies, candies, cupcakes, brownies and other baked items? Whether you're itching to incorporate your favorite type of chocolate into your baked goods, icings, fillings or even as delicious decorations on finished desserts, Sincerely Nuts has all the chocolate you desire. From decorations like sprinkles and chocolate rocks to delicious ingredients like chocolate chips and so many more fun chocolate choices to pick from, we offer you the sweetest inspiration for your next baking adventure. Order online for the freshest chocolates today.