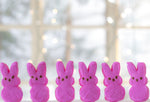 Easter is the perfect opportunity to make and share treats with all the people you love, such as family members, neighbors and school teachers. Making candy is a way to say "I care," and all your recipients will appreciate the effort.
We have compiled this list of easy Easter candy recipes you can whip together in no time. Share the love this Easter by preparing these candies for the people you care about the most.
Jelly Bean Bark
Layer a small cookie sheet with foil, and butter the foil to prevent sticking. Melt one cup of our White Cookie Chips in the microwave, zapping for 30-second increments and stirring in between. When the chocolate is all melted, pour onto the cookie sheet, smoothing where necessary. Sprinkle jelly beans on top. Let sit until cool, and break into small pieces.
Marshmallow Bunnies
Put icing on the bottom of six large marshmallows, and stack each one on top of a second marshmallow. Cut two marshmallows into quarters and set aside. Using store-bought pink icing, pipe a circle around each two-decker marshmallow's neck and add an X in front for a "bowtie." Paint a face on each bunny with pink icing. Use Cinnamon Imperials as eyes.
Attach two quarter-lengths of marshmallow to the top of the bunny's head as ears. Pipe pink icing up and down each to complete the "ear" look. Use icing to attach two Juju Cinnamon Bears at the bottom of bunny's body to act as feet.
Nesting Chicks
Melt a bag of marshmallows and three tablespoons butter in a saucepan. Pour into a bowl with six cups of Corn Pops cereal. Mix and press into a greased 12-cup muffin tin. Set aside to cool for about two hours. You can speed up the process by popping the muffin tin in the freezer for 15 minutes.
Add a cup and a half of coconut, one tablespoon of water and several squirts of green food coloring to a baggie. Shake the baggie until the coconut is green and has absorbed the water. Place 1/12 of the coconut on top of each Corn Pops "nest." Cover with assorted jelly beans . Sit a brightly colored Peep atop each nest.
Easter Pretzels
Put a layer of parchment paper on a cookie sheet. Spread one layer of pretzels on the paper. At the center of each pretzel, place one Peanut Butter Chip. Pop the sheet in an oven set to 375 degrees F and cook for five minutes. The chip should be soft but not gooey when you remove the pretzels. Working quickly, add one Chocolate Lentil on top of each chip, pressing firmly to set into place. Allow to cool before serving.
Get the Ingredients for Your Easter Candies Recipes
To make these homemade Easter candy treats, you will need to stock up on supplies. Sincerely Nuts has you covered. We sell many of the ingredients you need, and they are available in bulk, too. If you spend more than $60, we'll give you free shipping. Place your order now!