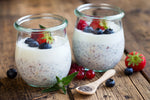 When you're on the paleo diet, you may get hungry in between meals and struggle to find a snack that will fill you up until your next meal. Being on the paleo diet does mean you need to prepare some snacks ahead of time to make sure you always have something on-hand when you want to get snacking.
If you're looking for some tasty and healthy paleo snacks, check out these four ideas!
1. Macadamia Nut Hummus
Hummus is a go-to treat for people on the paleo diet, as well as vegans, vegetarians and anyone else who appreciates healthy ingredients. But doesn't it get a little boring to eat the same old hummus flavors day in and day out?
Mix up this traditionally chickpea-based recipe by making macadamia nut hummus. Mix together about a cup and a half of chopped macadamia nuts, lemon juice, olive oil and garlic in a food processor. Blend until the nuts are somewhat broken up, then add some sea salt and half a cup of water. Mix again until smooth, adding water until you reach your desired consistency. Chill your macadamia nut hummus for about 30 minutes and enjoy!
2. Chia Seed Pudding
With only a few ingredients, you'll have a delicious, creamy snack that works great with lots of other flavors. Chia seed pudding is quick and easy to make, and you can use all kinds of different flavors.
You'll mix chia seeds and coconut or almond milk and let the seeds absorb the liquid. After the seeds absorbed the milk, it will have a pudding-like consistency. You can add other ingredients, too, like vanilla extract, honey, fruit and more. Chia seeds are a healthy snack that is packed full of protein and other nutrients.
3. Paleo Orange Cranberry Scones
Craving something sweet? Just because you're paleo doesn't mean you can't satiate your dessert cravings every now and then. Dried fruit is an excellent way to enjoy a delicious treat without consuming too much sugar or saturated fat. Try making a batch of these paleo orange cranberry scones to satisfy your sweet tooth!
Mix together coconut flour, almond flour, salt and baking powder. Separately, combine two eggs, honey, coconut oil, coconut milk and orange zest. Combine the two mixtures thoroughly, then add in dried cranberries and an extra splash of coconut milk. Bake your scones at 350 degrees Fahrenheit for 20 to 25 minutes until golden brown.
4. Spicy Baked Pumpkin Seeds
If you're a fan of all things spicy, this recipe for spicy baked pumpkin seeds is about to become a new staple in your house. For every cup of fresh pumpkin seeds you use, mix together the following seasonings:
1 tsp olive oil
½ tsp sea salt
½ tsp chili flakes
½ tsp hot or sweet smoked paprika
Cook your pumpkin seeds in a pot of boiling salt water for 10 minutes, then remove from heat and drain. Coat the pumpkin seeds in the appropriate amount of the seasoning mixture, and then place them in a single layer onto an oiled baking sheet.
Bake the seeds at 400 degrees Fahrenheit for anywhere from five to 20 minutes, depending on the size and amount of seeds you're making. Check and stir them every three to four minutes to avoid burning. Let them cool and enjoy them on their own as a snack or as a topping for your soups and salads.
Finding paleo-friendly snacks can be hard. If you run out of time to make snacks like these ahead of time, there are some simple snack solutions! At Sincerely Nuts, we offer a fantastic variety of snacks that work in the paleo diet, like seeds, dried fruit and more. Purchase yours today and get free shopping on orders of $60 or more!