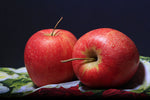 Dried apples make a positively yummy snack. You can grab them out of the cupboard when the kids get home from school, and you won't hear any objections, despite the fact that these sweet treats are also healthy.
While snacking on dried apples is an excellent way to get more fruit into your diet, you can also use them in other ways. We have compiled a list of recipes made with dried apples perfect to try when you want to experiment in the kitchen. Try these three ideas, and get ready to look at dried apples in a whole new way.
Dried Apple Chocolate Chip Cookies
Do you have a go-to chocolate chip cookie recipe? Everyone does. Give it a new twist by adding diced dried apples to your batter. Stir them in when you put in the chocolate chips. You can bake the cookies that same way you always do. In addition to upping the fiber content of your cookies, you also get a unique flavor combination from the chocolate and the apple that you will crave for days after the last cookie has disappeared.
Dried Apple Pie
Craving an apple pie but don't have any fresh apples in the house? Maybe it's not apple season or you just don't have time to run to the store. Prepare an apple pie with our dried apple rings. These have already been sliced, so they save you the trouble of having to do it yourself, which is one reason many people avoid making pies.
Instead, you can lay our apple rings out in the pie. Prepare it exactly how you otherwise would, substituting the apple rings for fresh apple. You may need to add a little bit of extra liquid to the pie filling to ensure the dried apples soften. You can cook it for an extra minute or two as well to bring all the flavors together.
Dried Apple Ice Cream Sauce
What's better than cool ice cream smothered in a warm fruit-based sauce? Not much. Make a tasty, sweet sauce for your ice cream with our organic apple slices. Chop the rings into bite-sized pieces and add them to a small saucepan on the stove. Put in a few additional ingredients:
Half cup of brown sugar
Cinnamon to taste
Dash of nutmeg
Cook the mixture on the stove, stirring frequently, for five minutes. Give it a taste test to see how the ingredients are blending. You may find you need to add more cinnamon. Some people also like to include a handful of chopped walnuts or raisins to make the sauce even meatier. Continue to simmer and stir until the sauce has thickened. Remove from the burner and let sit for five minutes, then pour over ice cream.
Buy Dried Apples for Your Recipes From Sincerely Nuts
Purchase our dried apples in bulk to ensure you have enough to make these recipes all year long. When you buy $60 or more from us, you receive free shipping. Contact us today to place your order.