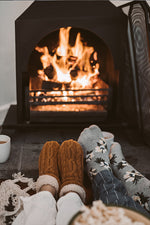 When the weather started to drop, you tend to notice more people sniffling on the street. Maybe you notice you are coughing a bit more or waking up more exhausted than ever.

The good news? It's not because it's getting colder. It's because of an overall lowered immunity that comes from not enhancing your immune system in the best way you can. But there are plenty of ways to do that, so not to worry.
Along with making sure you are getting enough vitamin D-rich foods, did you know there are tons of nuts and seeds that can help you stay warmer in the winter?

With everything going on in the world, it can't hurt to make sure your immune system is strong so you can stay well.
Check out these popular and nutritious nuts and seeds to see which ones you can start adding to your daily routine.
Walnuts are full of nutrients that help to keep your body warm and your brain healthy. Walnuts are extremely high in omega 3 fatty acids which helps to provide moisture to the skin and hair. Everyone knows the winter weather can be awfully drying so why not give your skin, hair, and brain a boost with an extra dose of omega 3 fatty acids.

Grab our walnut halves and pieces for an easy way to add them to pancakes, oatmeal, yogurt, and much more.
Almonds are high in vitamin E, potassium, calcium, phosphorus and more. All these nutrients are essential to keep your immune system healthy and strong. Don't skip out on almonds when they can help give you a necessary boost this winter.

At Sincerely Nuts, we have plenty to choose from as well! Try out our sliced almonds, a great addition to many meals, or even our assortment of flavored cinnamon almonds and more to keep you satisfied.
Chia seeds are loaded with tons of essential nutrients, and you don't even need much of them to reap all the benefits. Just having 2 tablespoons once a week can provide tons of benefits such as lowering blood pressure levels, weight loss, and regulating blood sugar in the body. For those times when maybe, you go a little overboard for the holidays, add some chia seeds to help balance out your immune system.

Grab some chia seeds from us here.
Pine nuts are a nut superfood containing tons of nutrient boosting qualities. During the winter, many people can become low in certain nutrients like iron, zinc, and vitamin A. This can happen because eating processed or too many refined foods can strip the body of necessary nutrition. This tends to happen during the holiday season for many.

Luckily, pine nuts are extremely high in all three of these nutrients, and fiber to boot! Pine nuts can even assist with hormonal health because they are so high in zinc and iron. Try out our pine nuts today.
Did you know consuming flaxseeds in the winter can help to keep your body warmer? Flaxseeds contain lignans, which are naturally warm in nature, so they can literally keep us warmer in the winter. They are also extremely high fiber, and their nutritional properties can be a powerhouse for women and men alike. Try to eat ground flaxseeds instead because they are easier to digest than the whole seed form.

Ground flaxseed are also extremely versatile. You can add them to your favorite oatmeal, yogurt, tea, or even yogurt for a nutritious boost. One spin in the blender is all you'll need. Try our flaxseed here.
Peanuts are one of the most popular nuts around and have been for quite some time. While peanuts are not typically low in the standard American diet, eating them in their raw form in the winter can be extremely helpful. That's because they are high in resveratrol, which helps to naturally nourish and hydrate dry skin. That can come in handy in the winter when skin tends to go through dry patches due to the weather changes.
Grab some of our peanut assortments for a versatile mix to your routine.