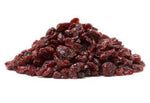 You can use dried cranberries in more than just a Christmas fruitcake. If you're looking for some new ways to use the dried cranberries in your pantry to enjoy their health benefits, check out these four recipes below!
1. Cranberry Almond Salad
Sprinkling some dried cranberries onto a salad makes for a healthy meal or side. Use your favorite leafy greens, salad dressing and other toppings. Check out this recipe for a great combination of flavors. The simple salad only has a few ingredients itself but also instructs you to make a tangy, homemade dressing.
Salads, especially simple ones like this, are easy to make but so delicious. Make a big batch to serve as a side during a dinner party or put it together as a meal prep lunch for the week. No matter how you serve or enjoy this nutty and tangy salad, it's sure to be a big hit.
2. Cranberry and Pistachio Biscotti
Whether you plan on dunking it into your favorite coffee blend or just nibbling on it by itself, this recipe for cranberry and pistachio biscotti will make a delicious snack or treat. You may think biscotti is something you can only enjoy in the coffee shop, but it's easier to make at home than you think! You mix up the biscotti dough similarly to other baked goods. But, what gives it its signature crunch is that it's twice-baked.
Bake this biscotti and save it all for yourself — we wouldn't blame you! — or give it to others as a nice gift. There's no wrong way to eat a delicious biscotti! The crunch of the biscuit combined with the sweeter cranberry flavor and nutty pistachio gives this type a delicious taste.
3. Turkey and Cranberry Mini Tarts
Lots of families love making big meals to share with loved ones. There's nothing like sitting around the table with our families and passing around some of the all-time best comfort foods — mashed potatoes, turkey, stuffing and more. But, when we make these big dinners, we also usually end up with lots of leftovers. Instead of making the same meal a few days in a row, use up your leftovers in a unique way.
When you have some leftover Thanksgiving food, why not use it to make something else? All you need are some pre-made phyllo dough tart shells and some of your favorite leftover Thanksgiving foods, including your dried cranberries! Follow the recipe to make these fantastic tarts yourself.
4. Cranberry Scones With Orange Zest
Scones are a simple but tasty treat. You can spread plain ones with butter or jam, or eat the ones with other ingredients all on their own. With a steaming cup of tea, you've got the perfect combination!
With some cinnamon, orange zest, nuts and of course the cranberries, these tasty pastries have great flavor. When you whip up the batter and pull these out of the oven, make sure to bite into one right away! Nothing beats a scone right out of the oven. Use this recipe to make these amazing scones at home.
If you're looking for an excellent ingredient to put into these recipes, Sincerely Nuts has the selection of dried cranberries to give you amazing results each time you bake or cook with them!