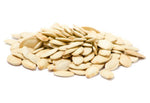 Wondering what to do with your pumpkin seeds after you scoop them all out to make a jack o' lantern? Don't toss them in the garbage. Instead, try making your own DIY roasted pumpkin seeds. These large seeds provide a load of protein and fiber, and they taste delicious to boot.
When you roast them, their natural flavor comes out, and they become irresistible. Cover them with your favorite spices to whip up a healthy treat you can indulge in without feeling guilty. Read on for our foolproof approach to making roasted pumpkin seeds.
The Best Roasted Pumpkin Seeds Recipe
First, preheat the oven to 250 degrees. Cover a cookie sheet with aluminum foil, and either mist it with olive oil or rub a stick of butter on it.
The next step in making roasted pumpkin seeds? Removing all the pumpkin guts from your seeds. This consumes a lot of time, but cooking the seeds with pumpkin coating stops them from getting nice and crispy. Follow these steps to get your pumpkin seeds properly clean:
Remove as much pumpkin as you can by hand.
Dump the seeds into a colander as you remove the pumpkin.
Run the colander under cold water to wash away the rest of the pumpkin fiber.
Pat the seeds as dry as you can with paper towels.
Don't skip this last step. The seeds will roast better if you take the time to dry them. When they are wet, they steam up the oven and won't get crispy.
Seasoning Your Pumpkin Seeds
Next comes the fun part. Put the clean, dry seeds in a bowl, and mix in a small amount of olive oil or melted butter. Once you have the seeds coated, take out your favorite seasonings and sprinkle them into the bowl. You can come up with nearly endless combinations for your pumpkin seeds, depending on whether you favor sweet, savory or salty flavors. A few of our favorites include:
Brown sugar and cinnamon
Kosher salt and freshly ground cracked black pepper
Worcestershire sauce and salt
Curry powder and garlic powder
Lemon pepper and garlic powder
You can also try a sweet-and-spicy combination. Mix a tablespoon of brown sugar with 1/8 teaspoon apiece of black and cayenne peppers. Add a half-teaspoon of salt as well, and spread the mixture evenly through the seeds.
Once you have stirred in the oil and spices, pour the seeds onto your already-greased cookie sheet. Spread the seeds into a single layer to ensure each one gets exposed to the heat. Roast them for 20 minutes, remove the sheet, and stir the seeds around. Put the sheet back in the oven and roast them for another 25 minutes, or until they have a faint brown color. Then crank up the oven to 325 for five more minutes and remove the sheet. Your seeds are done, and they're delicious.
Of course, if you want to skip dealing with the goopy insides of the pumpkin and just get the seeds for roasting, you can always place an order for raw pumpkin seeds from Sincerely Nuts. You get free shipping when you buy more than $60 of merchandise from us.