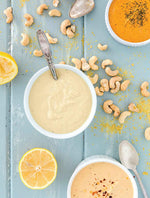 MAKES ¾ CUP
PREP TIME: 5 minutes
ACTIVE TIME: 10 minutes ½ cup sincerely nuts raw cashews, soaked in warm water for at least 1 hour and drained, water reserved
 Ingredients
5 to 6 tablespoons reserved soaking water
2 tablespoons lemon juice
2 tablespoons nutritional yeast
½ teaspoon white soy miso (or chickpea miso)
Combine the cashews, ¼ cup of the reserved soaking water, the lemon juice, nutritional yeast, and miso in a food processor or blender and process until smooth.
Add up to 2 tablespoons more water for a thinner sauce.
Store in an airtight container in the refrigerator for up to 7 days.
NOTES
The cheese will thicken when chilled, so you may need to add more water to thin it back out.

VARIATIONS
Smoked Gouda Cheese Sauce: Add 1 teaspoon smoked paprika, ½ teaspoon garlic powder, and ½ teaspoon dried dill.
Pepperjack Cheese Sauce: Add ½ teaspoon onion powder, ½ teaspoon garlic powder, and 1 teaspoon red pepper flakes.
Mixed Herb Cheese Sauce: Add 2 teaspoons dried mixed herbs of your choice. I prefer ½ teaspoon dried thyme, ½ teaspoon dried parsley, ½ teaspoon dried oregano, and ½ teaspoon dried basil, but any blend will do.
Melty Cheese: For cheese that seems melty and browns when baked—for the main recipe or any of the variations—increase the water to ⅔ cup and add 1 tablespoon arrowroot powder or cornstarch. Transfer the cheese to a small pot and heat over medium heat, stirring constantly, 3 to 4 minutes, until it's thickened but still drips slowly off a spoon. Pour it on top of whatever you're baking and proceed with that recipe's instructions.