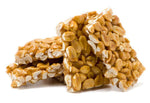 The delicious and satisfying crunch of peanut brittle is often associated with the holidays, but it's a fun and fairly simple treat you can make and enjoy at any time of the year.
With a little bit of time and the right ingredients, you can make the best homemade peanut brittle right in your own kitchen.
What Is Peanut Brittle Made Of?
To many, peanut brittle is the stuff dreams are made of. Its caramel-like exterior almost melts in your mouth, and the peanuts give it just the right delightful crunch.
Peanut brittle is quite simple to prepare. With a few ingredients, you can have the crunchy, chewy and savory goodness of a delicious treat in no time.
A key part of the recipe is creating a caramel or toffee-like mixture out of the water, sugar, butter, baking soda, corn syrup, and salt. The first time you try it, it might not work out perfectly — but that should never dissuade you from trying! The more you make peanut brittle, the better you'll become. Pretty soon, you might just be known as the peanut brittle expert among your friends and family.
How to Make Peanut Brittle
Peanut brittle is a relatively easy recipe and uses simple ingredients you might already have at home. You will need to have a candy thermometer, though, to ensure the mixture is at the right temperature.
Ingredients:
1 c. white sugar
1/2 c. corn syrup
1/4 c. water
1/4 c. butter, softened, plus 1 tablespoon
1/4 tsp salt
1 c. peanuts
1 tsp baking soda
Directions:
Using the one tablespoon of butter, grease a rimmed baking sheet. Set the baking sheet and the extra butter aside.
In a sturdy saucepan, heat the white sugar, corn syrup, water, and salt. Bring the mixture to a boil, and stir until all of the sugar dissolves.
Mix in the peanuts and insert the candy thermometer. As you continue stirring, wait until the mixture warms to 300 degrees Fahrenheit.
Remove the mixture from the heat and stir in the butter and baking soda right away. As soon as the baking soda and butter are evenly combined, pour the mixture onto the cookie sheet.
Use two forks or other utensils to push the mixture evenly over the cookie sheet.
Let the peanut brittle cool completely, then snap into pieces.
Store any leftover peanut brittle in an airtight container. It can last up to two weeks when stored properly.
Whether you're looking for a tasty snack, a gift for a coworker or friend or something to put out at your next party, peanut brittle makes a great pick!
Tasty Treats and More at Sincerely Nuts
Don't feel up to making peanut brittle yourself? We've got you covered at Sincerely Nuts. We also have the peanuts you need if you do decide you want to give it a try. Order today!