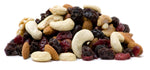 When you grab for a snack at your desk, on a walk or during an afternoon off, you want to chow down on something quick, simple, satisfying and — most importantly — healthy, so you can savor your munchies with ease and without guilt. As one of America's favorite snacks, trail mix seems like a perfect fix when you need a go-to for your cravings. Packed with tempting, tasty ingredients like nuts, raisins, dried fruit, sunflower seeds, chocolate and other tiny goodies, it's a snack that's lightweight, quick to make, easy to carry and delicious — what's not to love?
Whether you're a hiker looking for easy eats, a mom on the go or a busy professional, you turn to trail mix as a guilt-free, healthy snack with sweet ingredients. Is trail mix really good for you, though? If you're wondering about the true nutritional breakdown of this much-loved mix, we're here to help. From a breakdown of trail mix ingredients to suggestions for healthy trail mix recipes, we'll boost your confidence and better your habits in trail mix snacking.
What's in Your Trail Mix?
First created by outdoorsman Horace Kephart — who helped develop plans for the Appalachian trail — trail mix has been hailed as a healthy snack for a century. However, since its definition and variants have changed over time, so has its nutritional content. Is trail mix healthy? It really depends on what it contains.
Most trail mixes rely on a base of different nuts, seeds and dried fruits — classically, raisins and peanuts, but also expanding to more unique ingredients like cashews, sunflower seeds, pecans, craisins, dried pineapple and banana, along with other goodies. This part of trail mix is the heart-healthy half — because eating a healthy daily portion size of nuts and dried fruits delivers a nutritious dose of antioxidants, protein, unsaturated fats, fiber, vitamin E, omega-3 fatty acids, and other vitamins and nutrients essential to maintaining a healthy lifestyle.
The catch, however, is this — in addition to their healthy fruit and nut base, most trail mixes also contain a sweet element like chocolate chips, candies, yogurt-covered pretzels, peanut butter cups, graham cracker pieces or other sugary options. While this certainly makes your snack especially tempting and keeps you coming back for more, it undermines the healthy content of the other ingredients by packing a sugary, salty punch with a spike in calories that can make a serving of trail mix as saturated in unhealthy fats and sugars as a candy bar.
How to Make Sure Your Trail Mix Is Healthy
Finding out about its sneaky sugar content doesn't mean you should stop snacking on trail mix — in fact, it's a great step to ensuring you search for and select only the healthiest options. Next time you make or buy your favorite trail mix, leave out the sugary additions. A little dark chocolate is acceptable and even nutritious, but other than that, stick to tasty dried fruits to deliver that dose of sweetness along with your nuts.
In addition, watch your portion size — nuts and fruits may be packed with protein and vitamins, but you can still have too much of a good thing calorie-wise. Check the nutrition label to portion the right amount of packaged trail mix, or allow yourself a handful of homemade mix to make sure you savor just the right amount to be healthy.
If you're looking for the healthiest trail mixes and ingredients to feed your fancy, Sincerely Nuts offers a delicious selection of classic and unique mixes in a variety of flavors — like our Almond Supreme Trail Mix, California Aloha Mix, Cranberry Pecan Mix and many more. Indulge in your healthy cravings and order online today.