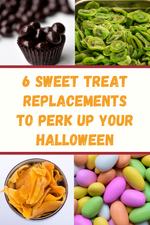 Although Halloween will not be the same this year with tons of trick or treaters lining the streets, that doesn't mean treats are out of the mix.
But for this year, there a ton of ways to include more nutrient-dense snacks that still help us satisfy that sweet tooth craving. And, we have just the treats for that. Plus, check out more sugary delights that you can have in smaller quantities or share with the family instead. Getting to the bottom of your sugar craving is also extremely helpful when starting a healthier diet overall.

You may find yourself craving certain sweets out of the pure habit you have become accustomed to. Even when you get to the bottom of your sugar craving, adding a little sweetness to your diet here and this won't hurt you. And, we have the perfect assortments to help you do just that, plus get in some necessary nutrition, too.

Whatever may be perking up your sweet tooth craving, Sincerely Nuts is here to help you find healthier alternatives to Halloween treats without sacrificing your health in the process. And don't worry, you will still get your sweet tooth 100 percent satisfied with these tasty alternatives.
Some of these treats can help to give your immune system a necessary boost to stay healthy this winter. Keep your immune system fighting strong and don't be afraid to have a little candy here and there. Here are some product replacements for Halloween this year and beyond to change it up.
This classic snack is the perfect way to satisfy your sweet tooth all-year round and get some high-quality nutrition at the same time. These lightly coated Jordan almonds are a great way to get in something sweet but fill up faster, so you eat less as well.

Plus, almonds are more than just something tasty to munch on. They are loaded with tons of essential vitamins and minerals, making them a nutritious choice, too.
Almonds have high amounts of protein compared to other snacks. That's why they are famous for helping to keep you full longer. With our almonds' light coating of crunchy sugar, these pink Jordan almonds have just the right amount of sweetness to satisfy your sweet tooth.

Get in your share of magnesium, antioxidants, and essential vitamins and minerals, all while curbing your sweet tooth today.
These are the perfect candy for the adults this year to give you an extra boost of energy to play dress up inside with your children this year. Move over M&Ms, there's a new bean in town. Skip the artificial flavorings and go right for our delicious expresso beans this Halloween.
This snack has nutritional benefits, too. Espresso beans contain antioxidants, which help to fight off free radical damage throughout the body. They have a multitude of health benefits, where some studies even suggest more longevity if you drink the coffee made from these beans.

The best reasons to enjoy chocolate-covered espresso beans is for their absolutely delicious flavor and health benefits to boot.

Grab some of these to power through this Halloween with your family, without going overboard on the actual coffee.
Kiwi is always a crowd pleaser, and we just know your whole family will love this sweet and tasty dried fruit snack. This is a great way to sneak in some healthy fruit to your family's diet, as they will think they are eating real candy.
Kiwi's are naturally sweet, but this dried version brings out the sweetness even more. Rich in fiber, zinc, antioxidants, and omega 3 fats, you can't go wrong with this sweet and nutritious snack.

From just hanging out at home to being on-the-go, you can eat these dried kiwi slices anywhere, anytime. Don't miss out on these sweet treats today.
Treat yourself to England's famous wrapped candy, the crystal lemon delight. These wrapped candies provide a rich and classic flavor with just the right amount of sweetness. If you love lemon, you will love these tangy lemon-flavored candies.

Prefer strawberry instead? Our Strawberry Bon Bons are sweet and juicy and filled with a burst of strawberry explosion in every bite.

We know the whole family will love these tiny candies that come with a powerful punch of flavor. Grab some today to satisfy your sweet tooth with a little less this year.
Change up your Halloween candy this year with a fun new addition to the candy crew. These gummy blue sharks have just the right amount of sweetness without going overboard.

The texture will make you coming back for more, and the kids will be happier than every knowing their blue shark friends are ready to perk up their moods. A little candy never hurt nobody.

These blue gummy sharks not only taste delicious, but they are also the perfect way to add some flair to your party, even when socially distancing this year. When you have a balanced diet with the right number of vitamins and minerals, a blue shark here and there can't hurt.
You cannot go wrong with our customer favorites, the dried mango slices. These are the perfect consistency and sweetness to keep your satisfied and loving it.
They are mouthwateringly flavorful with a hint of tang, have an enticingly vibrant orange hue, and are deliciously chewy. We know the whole family will love these delicious treats.

Plus, mangoes come with several health benefits, too. They are rich in vitamin C, vitamin K, essential B vitamins, and much more. These sweet treats will satisfy your sweet tooth and keep you coming back for more to gain more energy and keep your immune system strong this winter season.
We have a variety of fruit slices, dried fruits, chocolate covered almonds, Jordan almonds, and much more available all-year-round here at Sincerely Nuts.

From everyone at Sincerely Nuts, we wish you and your family a happy and healthy Halloween.