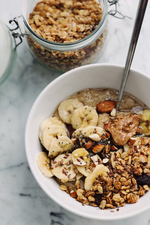 Nut butter is the go-to protein and healthy fat snack these days, but have you tried making your own?
If you have a blender, you can have just that. Making your own nut butter is extremely easy, and the best part is, you can choose whatever nut you like the best. From walnuts and almonds to cashews and macadamia nuts, there is not limit to what you can make into a nut butter. You can even make nut butter out of seeds!
What's even better is that it takes less than a half hour and only requires two ingredients.
Check out the quick recipe below as an example.
Nut Butter:
Prep time: 15 minutes
Cook time: 10 minutes
Total time: 25 minutes
Makes: 32 Servings
Ingredients:
Optional Add ins:
Directions:
Roast nuts at 350 degrees for 8-12 minutes.
Add nuts to a food processor with water to cover ingredients. Mix on high until completely blended.
Nuts will transform from clumps to a creamy nut butter, scrape the sides, as necessary. This process will take about 10 minutes.
Add in your optional add-ins if desired. Enjoy!
While you can buy nut butter from the store, you can save a ton of money by making it at home, especially with out bulk nuts you can keep fresh for longer.

Check out this delicious and creamy nut butter and see the difference of making nuts at home for yourself. What is your favorite type of nut butter?