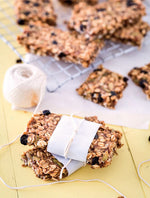 MAKES 12 BARS

PREP TIME: 5 minutes
ACTIVE TIME: 10 minutes
INACTIVE TIME: 80 minutes
Ingredients
 1 cup pitted Medjool dates
½ cup peanut butter (or almond butter or nut or seed butter of your choice)
¼ cup + 2 tablespoons apple juice
¼ cup coconut oil, melted
1 teaspoon vanilla extract
½ teaspoon salt
2½ cups rolled oats (certified gluten-free if necessary)
¾ cup chopped dried fruit (cherries, apricots, raisins, blueberries, apples, peach, and/or mango)
½ cup chopped nuts (almonds, pecans, walnuts, cashews, pistachios, and/or peanuts; see Variation)
½ cup sunflower (or pepitas/pumpkin seeds, or mixture of both)

INSTRUCTIONS
1. Preheat the oven to 300°F . Line a 9 × 13-inch baking dish with parchment paper.
2. Combine the dates, nut butter, apple juice, coconut oil, vanilla, and salt in a food processor and process until smooth. Set aside.
3. In a large bowl, stir together the oats, dried fruit, nuts, and seeds. Add the date mixture and stir until combined. Pour into the prepared baking dish and use a silicone spatula to flatten and smooth it.
4. Bake for 20 minutes, or until lightly golden, then remove from the oven and let cool completely before transferring to the refrigerator to chill for at least 1 hour.
5. Remove from the refrigerator and use the parchment paper to lift the granola out of the baking dish. Slice into 12 bars. Store in an airtight container in the fridge. The bars will keep for 7 to 10 days.
VARIATION
To make these bars nut-free, use a seed butter and replace the nuts with more sunflower and/or pepitas.
Find this incredible ingredients and more at