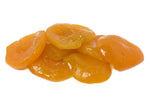 Candied fruits are a deliciously decadent treat that people enjoy all over the world, especially during the holidays. Learning how to make candied fruits at home can turn into a fun hobby, giving you an amazing snack to munch on whenever you want, give as gifts or even turn into a little cottage business.
Making candied fruits is a unique skill that may take a few tries to perfect. We want to make it a little easier to learn how to make candied fruit, so check out these two different recipes for making glazed fruit right at home!
Basic Steps
In the next sections, we'll talk about two different candied fruit recipes or methods on making this food at home. No matter which method you choose, you first complete the same basic process:
Before you candy the fruits, you may need to blanch them. Blanching your fruit will help them keep their nutrients and flavor while you store the finished product.
During blanching, you add your fruit to boiling water for a brief time, take it out and throw it into an ice bath right away.
After you blanch your fruits, it's time to make the syrup. Bring water and sugar to a certain temperature first, then add your fruit. You can dip different types of fruits into the same syrup.
Each batch of fruit will need to cook in the syrup until it becomes more translucent. After you take out the fruit, you need to let the pieces drain on a wire rack to get rid of all of the excess syrup.
For a more authentic recipe, keep reading to follow the longer method. But, if you don't have that much time, skip down to the shortcut method below.
The Longer Method
This longer method of making candied fruits is a more authentic recipe that is common in Europe. If you have the time and patience, it gives your fruit a truly special and delicious taste that is definitely worth the wait!
Follow these steps:
First, heat your syrup ingredients in a heavy saucepan and bring it to a boil.
Reduce the heat, then add your fruit and let it cook for about 20 minutes.
Remove the pan from the heat and let it sit overnight — leave it out on the counter to let it soak at room temperature.
Repeat this process five more times, with a total of six days simmering the fruits in the syrup.
On the seventh day, remove the fruit from the syrup and let it drain.
Check out the full recipe from David Lebovitz.
The Same-Day Method
This shorter method is essentially the same steps without repeating it over a week — you'll have your candied fruit after just one day of work:
Add your syrup ingredients to a heavy saucepan and heat the mixture until it registers between 230 and 235 degrees with a candy thermometer.
Add your fruit, small batches at a time, to the syrup and let it cook between 20 to 30 minutes or until the fruit becomes transparent.
Remove the fruit from the syrup and let the excess syrup drain. If you want, you can roll the fruit in some granulated sugar before the syrup solidifies.
After the fruit is completely cool, store it in an airtight container.
Check out the full recipe from Marcia McCance.
Whichever method you choose, making candied fruit at home yourself can turn into a complicated and lengthy process. If you want to enjoy this tasty treat without having to do so much work, shop glazed fruit at Sincerely Nuts! We have an excellent selection of dried fruits, as well as nuts, seeds and other tasty snacks and foods. Plus, get free shipping on orders of $60 or more!