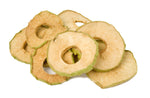 Fruit may be the perfect snack. It contains carbohydrates and natural sugars to give you energy that will carry you through the day. It has high fiber content and a sweetness that can curb any craving. It's loaded with vitamins and other nutrients, as well as cancer-fighting antioxidants. Perhaps most importantly, it tastes delicious.
You can't always carry a banana or a bunch of grapes in your purse, so many people prefer to snack on dried fruit instead of fresh. However, is dried fruit as healthy for you as fresh fruit? Is dried fruit even good for you?
While you may have heard that dried fruit is unhealthy, we can assure you that this tasty snack has many health benefits when consumed in moderation — just as you would for any other snack. Read on to learn more about dried fruit benefits.
Dried Fruit Counts as a Serving of Fruit
To consume a whole serving of fruit, you need to eat a cup of berries, apples or other fruit. You get the same health benefits, and an entire serving of fruit, from just a half cup of dried fruit. The problem is, dried fruit tastes so good you may be tempted to eat more. That's where portion control comes into play.
It would be easy to wolf down 2 cups of dried apple rings or Turkish dried apricots. Just remember that you get double the calories as you would with a single serving of fresh fruit, and it may be hard to keep from grabbing an extra handful. Portioning the fruit into single-serving bags can help.
Dried Fruit Has Higher Levels of Certain Nutrients
During the drying process, fruit can lose some vitamin C. In a lot of ways, you are better off sticking with dried fruit if you need more nutrients in your diet. Compared to fresh fruit, dried fruit boasts higher levels of:
Dried Fruit Doubles Down on Fiber
Dried fruit can have two to three times as much fiber as a piece of fresh fruit because it's highly concentrated. For instance, two dried apricots have twice the fiber of a single fresh apricot. Fiber is essential to keeping your digestive tract moving and cleaning out your intestines. Ingesting a lot of fiber will keep you regular and discourage bloating. You also fight off cancer and heart disease with a high-fiber diet.
Enjoy Dried Fruit as a Healthy Snack Anytime
There are also practical benefits of carrying dried fruit vs. fresh. Dried fruit won't spoil if you leave it in the car for a few hours. It fits in your pocket, and it's not as messy as fresh fruit to consume.
You can stock up on our dried fruit and have a healthy snack readily accessible whenever you need it. When you spend more than $60 with us, you receive free shipping. So go ahead and enjoy dried fruit without guilt.